July 10th, 2021
By Catherine Robertson Souter
There has been a lot of talk about self-care this past year. Do a search and you will find multiple articles on how therapists need to care for themselves in order to care for others. But where does teaching self-care fit in?
For David Meyer, Ph.D, clinical director and owner of Health Psych Maine, who also works with first responders on PTSD, self-care has become a major piece of his practice.
"It is a huge part of therapy," he said, "and a primary component of what we do with first responders around PTSD.…
May 11th, 2021
By Phyllis Hanlon
According to the National Institutes of Mental Health (NIMH), eight of every 100 individuals will experience post-traumatic stress at some time in their life; unlike civilians, police officers, on average, experience three traumatic events every six months. The frequency and intensity of these events may have a serious psychological impact on the officer at the moment and/or weeks, months or years in the future.
First responders always face the chance for direct or indirect trauma, chronic exposure to trauma, and concerns about expectations and the future, said Tanya Farber, Psy.D., outpatient psychotherapist in the LEADER (Law Enforcement, Active Duty, Emergency Responder) program at McLean Hospital.…
March 11th, 2019
By New England Psychologist Staff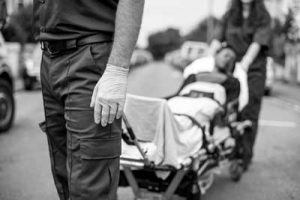 First responders to emergencies have a heavy burden to bear and often do not ask for emotional support. Massachusetts recently passed a law specifically to help this population.
Senator Michael Moore (D-Second Worcester District) was instrumental in passing legislation for mental health services for first responders. It highlights the mental trauma related to specific events on the job. The bill went into effect on January 16 and applies to firefighters, paramedics, and law enforcement officers.
"When you respond to a fire or a baby dies and you're trying to save them," he explained.…