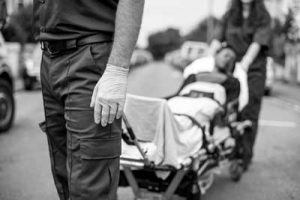 First responders to emergencies have a heavy burden to bear and often do not ask for emotional support. Massachusetts recently passed a law specifically to help this population.
Senator Michael Moore (D-Second Worcester District) was instrumental in passing legislation for mental health services for first responders. It highlights the mental trauma related to specific events on the job. The bill went into effect on January 16 and applies to firefighters, paramedics, and law enforcement officers.
"When you respond to a fire or a baby dies and you're trying to save them," he explained. "I don't know how you wouldn't take that home with you. But we expect them to walk away without any impact."
One of the most affected groups dealing with the aftermath of trauma—depression, anxiety, PTSD, and substance abuse—are first responders. The push for this kind of legislation came from a coalition made up of paramedics, firefighters, and police officers. They presented Moore with the proposal for better mental health support on the job.
"The rate of suicide is high. They're the ones everyone turns to for help," said Moore. "They're afraid that people may find out they've got issues to deal with."
"The rate of suicide is high. They're the ones everyone turns to for help." --Senator Michael Moore (2nd Worcester District)
According to one 2017 study from the Ruderman Family Foundation, a Boston-area philanthropic organization founded in 2002, first responders are more likely to commit suicide than die in the line of duty.
In that year, 103 firefighters and 140 police officers took their own lives compared to 93 firefighters and 129 police officers who died on the job. For this at-risk population, depression, anxiety, and PTSD were the main causes.
Another 2017 study from the Journal of the American Psychiatric Nurses Association focused on the "duty-related traumatic exposures" of first responders. The study determined specific "tailored strategies" were necessary to meet their mental health needs.
It stated the frequency, nature, and intensity of duty-related traumatic exposures had a cumulative impact on mental health. As Paul Jacques, legislative agent of the Professional Fire Fighters of Massachusetts noted, "Everybody handles stress differently, whether those effects are immediate or down the road."
Many departments employed peer support counselors but a lack of confidentiality and fear of suspension made some hesitant to seek counseling.
The legislation, however, allows for mental health professionals to be considered part of a "critical incident stress management team" and they will not be required to testify or divulge sensitive information as a result of a traumatic event.
The only exception to the bill's confidentiality clause would be if there is threat of serious bodily harm to themselves or others or the possibility of a crime.
"The one major issue was the confidentiality piece," said John Nelson, vice president and legislative director of the Massachusetts Coalition of Police. "If you're involved in a critical incident, you shouldn't take that home with you. You tell yourself it's okay, but you don't want your boss to know you have an issue. "
Nelson wanted to make one thing clear: first responders are only human. They see the worst accidents, the most serious bodily injuries, and the deaths from overdose on a regular basis. And, their wellness must be a top priority.
"We're wired differently," Nelson said. "When there's a crisis, we're the people running in while other people are running away."