Continuing Education for Psychologists
New England Psychologist
lists as many continuing education conferences and workshops as space allows. Workshops must offer CE credits (listed below) to psychologists in order to be included here. Listings with incomplete information will not be printed. Deadline to submit information is Jan. 1, Apr. 1, June 1, and Sep. 1 for print editions; anytime for online. CE workshop information may be submitted by email:
ce@nepsy.com
.
Need a few CE credits today?
Continuing education is both a requirement and an opportunity – but finding the right content can be a challenge. New England Psychologist, has partnered with Triad to offer high quality continuing education courses at a 25% discount.Continuing education courses are offered through AATBS, a Triad company approved by the APA, ASWB, NBCC, NYSED, and other national and state boards. The AATBS CE library includes 250+ CE courses (800+ unique hours of CEUs).To access the New England Psychologist discount, please
visit their catalog
and use code
NEPSY
to get 15% off CEUs today.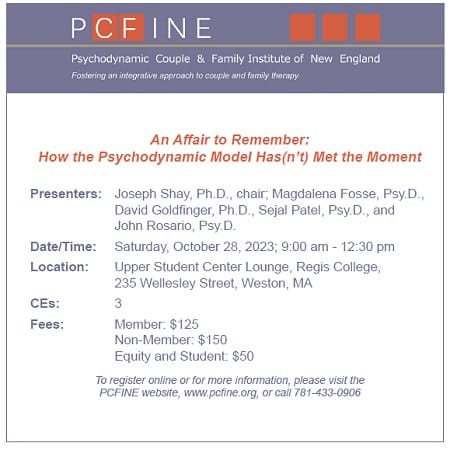 October
Oct 6 – Nov 3: Understanding Life Backward but Living It Forward: Analyzing to Understand but Envisioning Possibilities to Incentivize Action 2023. Online. $525, 18 CEs. Martha Stark, MD, will present an action-based, solution-focused, future-oriented psychodynamic model that conceives of the mind as holding infinite potential and of memory as dynamic and continuously updating itself on the basis of new experience (whether real or simply envisioned). A constructivist perspective at heart, her freshly minted Model 5 is an innovative and exciting approach to healing that is informed by the groundbreaking neuroscientific discovery that when traumatic memories are reactivated in an embodied fashion, the network of synapses encoding those memories will become deconsolidated for a time-limited period. Sponsored by William James College. Contact: www.williamjames.edu/academics/lifelong/ce/
Oct 14 -15, Nov 28-29: Level I Training in Clinical Hypnosis. Online. $650, $300 for students/trainees, $300 for professionals working in community agencies serving BIPOC and underserved communities.  22 CEs.  Clinical hypnosis deepens the work of mind-body practices, and allows our clients/patients to become even more deeply aware of their inner states.  It fosters awareness of their own strengths, resources and problem-solving abilities. This ASCH-approved, two-weekend workshop is comprised of a mix of didactic presentations, demonstrations, experiential exercises, and faculty-led small group practice tailored to the specific needs, interests, and learning styles of workshop participants.  Sponsored by the New England Society of Clinical Hypnosis. Learn more: www.nesch.org
Oct 20: Misery or Mastery: Documenting Medical Necessity for Psychotherapists. Zoom & In-person, Waltham, MA. $145, 6 CEs (additional charge: $20). Good documentation helps organize clinical thinking. Progress notes, treatment plans, case and collateral contact notes, discharge and diagnostic summaries can be done quickly and efficiently and provide a vehicle for formulating and reflecting on high quality clinical work rather than being a detour or afterthought. Good documentation supports good clinical practice, facilitates getting authorizations, and helps mental health professionals and clinics pass insurance audits. When practitioners are skilled at documenting their work there is a reduction in work related anxiety, increased productivity, and increased job satisfaction. Beth Rontal, LICSW will simplify clinical documentation by teaching her effective, efficient, and distinct procedure, which result in medical records that are clear, compliant, and clinically useful. Sponsored by Therapy Training Boston. Contact: www.therapytrainingboston.com/workshops.html
Oct 28: An Affair to Remember: How the Psychodynamic Model Has(n't) Met the Moment. Weston, MA. $150 ($125 for members), 3 CEs. Many couples arrive on the therapy doorstep announcing an affair has occurred and the couple has no model for dealing with it. They ask: Is the relationship over? Can we repair this? Whose fault is it? Why did it happen? Can I ever trust my partner again? Do psychodynamic models provide frameworks for addressing these questions? Have the models with their emphasis on individual, intrapsychic, or even relational factors, kept up with the moment? Sponsored by Psychodynamic Couple & Family Institute of New England. Contact: www.pcfine.org
November
Nov 3: 2023 CPA Annual Convention. Yale University, West Campus, CT. $175 ($125 for members), 5.5 CEs. Keynote speaker for the convention will be Dr. Jan Owens Lane, presenting Transformative Leadership And Strategic Advocacy In The Field Of Psychology and will feature a broad range of workshops, presentations, and networking opportunities, including a Diversity Track specifically addressing diversity and/or social justice education. Sponsored by Conn. Psychological Assoc. Learn more & register: connpsych.org/event/cpacon2023
Nov 3: Embracing a Culture of Equity, Inclusion & Community. Freeport, ME. $235 ($165 for members), 6 CEs. Two sessions: Are we there yet? Journey to Intercultural Competence by Idella Glenn, PhD & Transgender Comprehensive Primer by Quinn Gormley. Sponsored by Maine Psychological Assoc. Learn more & register: mepa.wildapricot.org/event-5375616
Nov 4: 2023 MPA Annual Conference: Raising the Next Generation: Innovation to Address the Evolving Needs of Youth & the Profession. Norwood, MA. $249 ($189 for nmembers), 1.5 CEs per session. During this conference, we aim to learn about the ways in which psychologists can address the youth mental health crisis through direct intervention, policy and program development, integration of new technologies, and community-oriented research. We will also focus on training concerns and learning from the next generation of mental health providers. Plenary presenters include: Dinella Rosa, PhD and Eugene D'Angelo, PhD. Sponsored by the Mass. Psychological Assoc. Learn more & register: www.masspsych.org/events/
Nov 9 – Dec 14: Treating Couples: Surmounting Challenges. Online. $195, 7.5 CEs, Thursdays from 12 – 1:30 pm ET. This course will focus on doing effective relational work in the midst of specific challenges in couple therapy, including working with trauma, maintaining stable and cohesive relationships, healing from infidelity, addressing consensual non-monogamy, working well across cultural differences and different attachment needs. Sponsored by Cambridge Health Alliance & Harvard Medical School. Contact: www.challiance.org/academics/psychiatry-continuing-education
Nov 15: Neurocognitive Sequelae of Acquired Brain Injury. Online. Free. 3 CEs. In this training, the neurocognitive disorders associated with acquired brain injuries will be reviewed and discussed, with respect to their recognition, assessment, and relationship to the sites of injury to the brain. Presented by Francesca LaVecchia, PhD. Sponsored by Brain Injury Assoc. of Mass. Contact: www.biama.org/abiprograms.html
December
Dec 1: Death Literacy: Working with Death and Dying. Online. $140, 5 CEs (additional charge: $20). Death literacy is the knowledge and practical skills that allow people to gain access to, understand and make active choices around end-of-life and death care options. Through lecture, video, journaling and small group conversations, this workshop will address the marginalization and medicalization of death in the 21st century, highlight the importance of fostering therapeutic conversations on mortality, summarize the parameters of palliative and hospice care, provide an outline of concrete topics of importance to address with clients, highlight ethical dilemmas for the therapist and explore therapist countertransference and personal life stories that often impact the therapeutic relations and interventions. Sponsored by Therapy Training Boston. Contact: www.therapytrainingboston.com/workshops
Dec 1 – 2: Enhancing Cognitive Health and Adaptive Functioning Across the Lifespan. Boston, MA. $420, 14 CEs. This course will review the current thinking and clinical practice around evidence-based techniques for cognitive optimization and adaptive functioning in the setting of various physical, mental health and developmental disorders across the lifespan. Faculty will provide overviews of several specific interventions and also offer skill-based sessions to learn and practice basic techniques. Participants will gain knowledge, skills and confidence to assess patient needs, identify relevant interventions that would benefit them, and refer patients to applicable cognitive training programs as well as be able to provide brief cognitive interventions themselves. Sponsored by Cambridge Health Alliance & Harvard Medical School. Contact: www.challiance.org/academics/psychiatry-continuing-education
Dec 8: When "Life" Happens, Are You Prepared to Stop Practicing? Solving Clinical, Ethical, & Legal Issues. Online. $195, 7.5 CEs. Careful preparation is essential to ensure successful transition during a temporary or permanent closure of clinical practice. This webinar will outline the legal, clinical, and ethical considerations for psychologists who are considering a temporary leave or termination of practice.. Sponsored by Rhode Island Psych. Assoc. Contact: www.ripsych.org/events/
Dec 13: Cognitive Rehabilitation After Acquired Brain Injury. Online. Free. 3 CEs. 'Cognition Rehabilitation' includes therapeutic services to improve cognitive functioning and participation in activities that may be affected by difficulties in one or more cognitive domains following an acquired brain injury. This presentation will focus on evidence-supported cognitive rehabilitation approaches, with an emphasis on attention, memory, executive functions, and language. Presented by Therese M. O'Neil-Pirozzi, ScD. Sponsored by Brain Injury Assoc. of Mass. Contact: www.biama.org/abiprograms.html
Upcoming
Jan 19 – 20: Mental Health in Older Adults: Reframing Aging. Boston, MA. $420, 14 CEs. Faced with managing the mental health needs of a growing aging population, it's more important than ever that health professionals stay current on how to recognize and treat mental health disorders in older adults. In addition, there is now a greater focus on creating a positive aging narrative around maintaining mental health and wellness into later years–reframing aging for both patients and care providers. Sponsored by Cambridge Health Alliance & Harvard Medical School. Contact: www.challiance.org/academics/psychiatry-continuing-education
Ongoing
EMDR Basic Training. Zoom. $1,550-$1,618 for 20 CEs. The EMDR Therapy Basic Training (Weekend 1 and 2) is designed for licensed mental health practitioners who treat adults and children in a clinical setting (See Qualifications Section). EMDR is a comprehensive psychotherapy that accelerates the treatment of a wide range of pathologies and self-esteem issues related to disturbing events and present life conditions. Sponsored by the EMDR Institute. Learn more: emdr.com
EMDR. Online. $1525-$1725, 40 CEs. This is hands-on clinical skills training for using EMDR and integrating it with your psychotherapy approach — with adults as well as children. Sponsored by Trauma Institute & Child Trauma Institute. Learn more & register: www.ticti.org/training/emdr/
Slaying the Dragon. Online. $30, 6.5 CEs. This program provides advanced clinical skills for trauma-informed evaluation, treatment planning, and supervision/consultation. Introduction to progressive counting (PC). Sponsored by Trauma Institute & Child Trauma Institute. Learn more & register: www.ticti.org/training/fairy-tale-model/
Progressive Counting. Online. $850, 30 CEs. Progressive Counting (PC) is a fairly new research-supported trauma treatment that is effective, efficient, well-tolerated by clients, and relatively easy to master. This is a hands-on clinical skills training for using Progressive Counting with clients of all ages who have been exposed to significant trauma or loss. This in-depth training will cover trauma theory, impact of trauma and loss, identification and assessment of traumatized clients, and directly helping clients to manage their symptoms, resolve their trauma/loss memories, and prepare to cope effectively with future challenges. Sponsored by Trauma Institute & Child Trauma Institute. Learn more & register: www.ticti.org/training/progressive-counting/