Continuing Education for Psychologists
New England Psychologist
lists as many continuing education conferences and workshops as space allows. Workshops must offer CE credits (listed below) to psychologists in order to be included here. Listings with incomplete information will not be printed. Deadline to submit information is Jan. 1, Apr. 1, June 1, and Sep. 1 for print editions; anytime for online. CE workshop information may be submitted by email:
ce@nepsy.com
.

Need CE credits today?
In the dynamic field of psychology, continuing education is both a requirement and an opportunity. Finding the right CE content can be a challenge and that's why
New England Psychologist
has partnered with Triad to offer exclusive savings: 15% off premium continuing education courses.
Triad brings you high-quality courses through AATBS, Triad's flagship continuing education brand approved by the APA, ASWB, NBCC, NYSED, and other national and state boards. With a rich library of over 500 cutting-edge CE courses, offering more than 1,200 unique hours of CEUs, find the knowledge that fits your professional journey.
Ready to ignite your passion for learning? Simply visit Triad's CE catalog and use code NEPSY at checkout to enjoy 15% off on your chosen CEUs today. Don't miss this chance to elevate your professional growth and meet important continuing education requirements.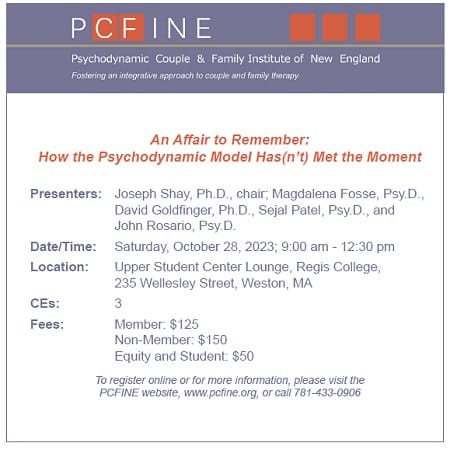 December
Dec 1: Death Literacy: Working with Death and Dying. Online. $140, 5 CEs (additional charge: $20). Death literacy is the knowledge and practical skills that allow people to gain access to, understand and make active choices around end-of-life and death care options. Through lecture, video, journaling and small group conversations, this workshop will address the marginalization and medicalization of death in the 21st century, highlight the importance of fostering therapeutic conversations on mortality, summarize the parameters of palliative and hospice care, provide an outline of concrete topics of importance to address with clients, highlight ethical dilemmas for the therapist and explore therapist countertransference and personal life stories that often impact the therapeutic relations and interventions. Sponsored by Therapy Training Boston. Contact: www.therapytrainingboston.com/workshops
Dec 1 – 2: Enhancing Cognitive Health and Adaptive Functioning Across the Lifespan. Boston, MA. $420, 14 CEs. This course will review the current thinking and clinical practice around evidence-based techniques for cognitive optimization and adaptive functioning in the setting of various physical, mental health and developmental disorders across the lifespan. Faculty will provide overviews of several specific interventions and also offer skill-based sessions to learn and practice basic techniques. Participants will gain knowledge, skills and confidence to assess patient needs, identify relevant interventions that would benefit them, and refer patients to applicable cognitive training programs as well as be able to provide brief cognitive interventions themselves. Sponsored by Cambridge Health Alliance & Harvard Medical School. Contact: www.challiance.org/academics/psychiatry-continuing-education
Dec 8: When "Life" Happens, Are You Prepared to Stop Practicing? Solving Clinical, Ethical, & Legal Issues. Online. $195, 7.5 CEs. Careful preparation is essential to ensure successful transition during a temporary or permanent closure of clinical practice. This webinar will outline the legal, clinical, and ethical considerations for psychologists who are considering a temporary leave or termination of practice.. Sponsored by Rhode Island Psych. Assoc. Contact: www.ripsych.org/events/
Dec 13: Cognitive Rehabilitation After Acquired Brain Injury. Online. Free. 3 CEs. 'Cognition Rehabilitation' includes therapeutic services to improve cognitive functioning and participation in activities that may be affected by difficulties in one or more cognitive domains following an acquired brain injury. This presentation will focus on evidence-supported cognitive rehabilitation approaches, with an emphasis on attention, memory, executive functions, and language. Presented by Therese M. O'Neil-Pirozzi, ScD. Sponsored by Brain Injury Assoc. of Mass. Contact: www.biama.org/abiprograms.html
January
Jan. 19 – 20: Mental Health in Older Adults: Reframing Aging. Boston, MA. $420, 14 CEs. Faced with managing the mental health needs of a growing aging population, it's more important than ever that health professionals stay current on how to recognize and treat mental health disorders in older adults. In addition, there is now a greater focus on creating a positive aging narrative around maintaining mental health and wellness into later years–reframing aging for both patients and care providers. Sponsored by Cambridge Health Alliance & Harvard Medical School. Contact: www.challiance.org/academics/psychiatry-continuing-education
Jan. 21: Healing Grief with Hypnosis. Online. $45 (free for NESCH members), 3 CEs. In this workshop Courtney Armstrong, M.Ed., LPC will explore why the face of grief and loss has changed since the Covid-19 pandemic, and help attendees acquire a host of contemporary strategies to use to comfort grieving clients and help them move forward in positive, healthy ways after loss. Through engaging discussion, video examples and experiential activities, attendees will learn scientific breakthroughs that have led to better treatments for grief, and discover how hypnosis can be used to help clients resolve difficult emotions, navigate the journey of grief, and view loss as a pathway to greater compassion, deeper relationships, and more meaningful living. Sponsored by the New England Society of Clinical Hypnosis. Contact: www.nesch.org
Jan. 24: Neurobehavioral Disorders Associated with Acquired Brain Injury. Zoom. Free. 3 CEs. The neurobehavioral sequelae of acquired brain injury (ABI) often represent the most challenging long-term consequences of ABI. This training will provide participants with an overview of the most common neurobehavioral and neuropsychiatric disorders associated with ABI, including personality changes, mood disorders, and other syndromes associated with behavioral manifestations. Presented by Francesca LaVecchia, PhD. Sponsored by Brain Injury Assoc. of Mass. Contact: www.biama.org/abiprograms
Jan. 25: Afterward – When Violence Occurs In, The State's Concept of Justice Leaves Out Many Victims, Survivors, And Communities. What Would They Say If We Invite Them To Speak? Zoom. $15, 1 CE. Crime and punishment drive politics in many states and at a national level. But the people who have the most power to create or change laws and policies in the wake of violence bear little resemblance to the people who are most harmed by it. Sponsored by Connecticut Psychological Assoc. Contact: connpsych.org/event/sjss-mass-incarceration/
Jan. 26-27: School Mental Health: Treating Students K-12. Boston, MA & online. $420, 14 CEs. Our children and teens are crying out for help, and those who work with school-aged youth must stay current with the latest knowledge and skills that will enhance the emotional well-being of our students. This course is designed to meet those needs and offer participants practical strategies with a mix of lecture, case studies, interactive panels and Q&A. Topics will cover resilience, risk assessment related to suicide and extremism, trauma awareness, social justice and immigrant supports; perfectionism, school avoidance and pediatric emergencies; while attending compassionately to ourselves and our colleagues. Sponsored by Cambridge Health Alliance & Harvard Medical School. Contact: www.challiance.org/academics/psychiatry-continuing-education
February
Feb 9-10: Psychedelic-Assisted Psychotherapy: Contrasting Visions. Boston, MA & online. $420, 13 CEs. As the field of psychedelic-assisted psychotherapy (PAP) rapidly expands, clinicians need to understand the many contrasting theoretical frameworks and perspectives that are emerging. This conference will empower participants to assess this complex landscape and its divergent visions and provide essential learning to engage with PAP as a cutting-edge therapeutic tool. Sponsored by Cambridge Health Alliance & Harvard Medical School. Contact: www.challiance.org/academics/psychiatry-continuing-education
March
Mar. 1: Chatbots Cannot Replace You: Using Digital Tools to Expand Your Positive Impact on Mental Health. Zoom. $99 ($69 for RIPA members), 3 CEs. Are you wary of the role of technology in mental health, or excited about technology's potential, but not sure where to start? We will review types of digital mental health interventions, explore how they mitigate barriers to service, evaluate data on their utility, examine the rapidly growing developments in cultural adaptation, and do hands-on exploration of how to identify apps for specific people or problems – so be sure to bring your smart phone. Sponsored by Rhode Island Psychological Assoc. Contact www.ripsych.org/events/
Mar. 1-2: Treating the Addictions. Boston, MA & online. $420, 14 CEs. This course will review the latest clinical findings and treatment strategies for addictive behaviors in adolescents and adults. We welcome all health care clinicians, including substance and mental health specialists as well as anyone concerned with the care and treatment of addicted individuals. Sponsored by Cambridge Health Alliance & Harvard Medical School. Contact: www.challiance.org/academics/psychiatry-continuing-education
Mar. 8: Shifting Families Towards Acceptance & Connection: Strategies for Helping When Youth Come Out as Transgender or Non-Binary. Waltham, MA & Zoom. $145 (discounts available), 6 CEs (additional charge). This training covers best practices, current research, and a variety of tools to conceptualize and work with even the most complicated situations. We will be using the Family Acceptance Project's research during a hands-on activity that will help clinicians navigate a range of potential rejecting behaviors that parents may exhibit. There will be a live panel of family members talking about their experiences with therapists and what they found was most helpful in their process. Sponsored by Therapy Training Boston. Learn more & register: www.therapytrainingboston.com/workshops
Ongoing
EMDR Basic Training. Zoom. $1,550-$1,618 for 20 CEs. The EMDR Therapy Basic Training (Weekend 1 and 2) is designed for licensed mental health practitioners who treat adults and children in a clinical setting (See Qualifications Section). EMDR is a comprehensive psychotherapy that accelerates the treatment of a wide range of pathologies and self-esteem issues related to disturbing events and present life conditions. Sponsored by the EMDR Institute. Learn more: emdr.com
EMDR. Online. $1525-$1725, 40 CEs. This is hands-on clinical skills training for using EMDR and integrating it with your psychotherapy approach — with adults as well as children. Sponsored by Trauma Institute & Child Trauma Institute. Learn more & register: www.ticti.org/training/emdr/
Slaying the Dragon. Online. $30, 6.5 CEs. This program provides advanced clinical skills for trauma-informed evaluation, treatment planning, and supervision/consultation. Introduction to progressive counting (PC). Sponsored by Trauma Institute & Child Trauma Institute. Learn more & register: www.ticti.org/training/fairy-tale-model/
Progressive Counting. Online. $850, 30 CEs. Progressive Counting (PC) is a fairly new research-supported trauma treatment that is effective, efficient, well-tolerated by clients, and relatively easy to master. This is a hands-on clinical skills training for using Progressive Counting with clients of all ages who have been exposed to significant trauma or loss. This in-depth training will cover trauma theory, impact of trauma and loss, identification and assessment of traumatized clients, and directly helping clients to manage their symptoms, resolve their trauma/loss memories, and prepare to cope effectively with future challenges. Sponsored by Trauma Institute & Child Trauma Institute. Learn more & register: www.ticti.org/training/progressive-counting/