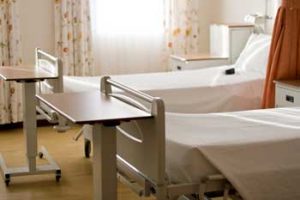 A special waiver exempts Vermont from a decades-old restriction prohibiting states from using Medicaid funds to cover services for non-elderly adults with mental health conditions in hospital settings with more than 16 beds.
But Vermont's waiver is set to expire starting in 2021 and phase out completely in 2025. That would leave the state on the hook for the $23 million in federal dollars being used to provide treatment for patients ages 21 to 64 at the Vermont Psychiatric Care Hospital (VPCH) in Berlin and Brattleboro Retreat, said Department of Mental Health (DMH) Commissioner Melissa Bailey.
A proposal among an assortment of bills in Congress to address the nation's opioid crisis offers a glimmer of hope. But it might not develop fast enough to matter to Vermont.
The bill sponsored by Rep. Greg Walden (R-Ore.), chairman of the House Committee on Energy and Commerce, would lift the so-called "institution for mental disease" (IMD) exclusion and allow for Medicaid to cover inpatient services for non-elderly adults with a substance use disorder for up to 90 days per year.
Some groups are pushing for amended language to include coverage for psychiatric disorders too. The bill would require that patients be assessed after the first 30 days of treatment to determine if continued care is necessary.
Simple math shows the IMD exclusion would mean the loss of nine of the 25 state-run beds at VPCH. But Vermont can ill afford to lose them.
After damage from Tropical Storm Irene led to the closing of the 54-bed Vermont State Hospital in 2011, the small rural state now only has 45 Level 1 inpatient beds. That has led to pressure on hospital emergency rooms where psychiatric patients are often stuck waiting for days for a bed to open up elsewhere.
Bailey was not optimistic when asked how she saw the chances of the IMD exclusion changing or the state's 1115 waiver granted in 2005 by the Centers for Medicare and Medicaid Services (CMS) being extended.
"I'd say very, very unlikely," Bailey replied.
The IMD exclusion would mean the loss of about 50 beds at the Brattleboro Retreat, said President and CEO Louis Josephson, Ph.D. The private psychiatric hospital has 119 beds in use though it is licensed for 149.
A total of 89 beds now in use are for adults, including 14 reserved for patients in state custody under a contract reached with the state after the closure of the state hospital in Waterbury in 2011.
"It is an existential challenge for the Brattleboro Retreat," Josephson said. "I don't know how the state of Vermont would manage really without those beds at this point."
Brattleboro Retreat has an annual budget of $70 million, and Medicaid dollars account for 70 percent of inpatient revenue, Josephson said.
The 16-bed IMD limit is a relic of the era of de-institutionalization when the federal government sought to prevent federal dollars from paying for the care of psychiatric patients in state mental hospitals.
"It was a very well-intended rule back in the day when we had large state-run mental hospitals that kept people for a very long time," Josephson said. "We are not in that position anymore by any means."
The average stay for adults at Brattleboro Retreat, excluding the 14 beds under state contract, is 7.8 days, Josephson said.
The National Association for Behavioral Healthcare has long supported breaking down the IMD exclusion and is advocating for Medicaid funding to cover non-elderly adults with both psychiatric and substance use disorders, said its president and CEO Mark Covall.
He called the 16-bed limit arbitrary and inefficient, noting that a small facility has much higher costs per day than one with 30 or 40 or 50 beds.
He estimated the chances of Congress modifying the IMD exclusion as "50/50."
Hospitals "can't just wait another year or two and hope something's going to change," Covall said, adding Vermont has to operate under the scenario that the waiver will end unless a new arrangement can be worked out with CMS.
"We do believe that there's tremendous progress and bipartisan support for fundamental change to the IMD exclusion," Covall said, "but you're never able to make any kind of estimate about when that would occur in Washington."
In the meantime, Vermont officials are pursuing solutions to address the urgent need to increase bed capacity in its mental health system. In April, the Green Mountain Care Board, which regulates hospitals, ruled that the University of Vermont (UVM) Medical Center should pursue using surplus fiscal 2017 revenue to increase bed capacity.
"The waiver expiration is high on everyone's minds and the state is working hard to address that," said board member Jessica Holmes, Ph.D.
The Vermont Legislature passed a capital bill that included $5.5 million for Brattleboro Retreat to create an additional 12 acute care state hospital beds. Josephson said those beds should come online around September 2019 to help reduce the pressure on hospital emergency rooms.
However, Brattleboro Retreat has asked for a Medicaid rate increase because rates have been "basically flat for the last eight years," Josephson said.
"We've told the state of Vermont that frankly they can give us the capital money, but we're going to have a nice, shiny new unit without any staff because we're not able to compete in the marketplace for nurses and others that we need."
Bailey said planning for how the state will reduce bed capacity at VPCH and Brattleboro Retreat or tap its general fund to offset the loss of federal participation dollars is "a work in progress."
A plan is due to be filed with CMS by the end of the calendar year.
"There are a few other creative ideas but…they're not well thought through or vetted yet so I wouldn't want to share them," Bailey said.