May 13th, 2018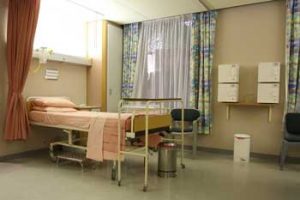 The Vermont House of Representatives Committee on Health Care has already come out against funding a temporary 12-bed forensic unit at the Northwest State Correctional Facility in Gov. Phil Scott's proposed fiscal 2019 state budget.
But during the appropriation process in early April, Senate members appeared more receptive toward the facility proposed to alleviate the demand on emergency rooms and psychiatric facilities around the state.
"That's a showdown between the Senate and the House that we get caught in the middle of," said Department of Mental Health (DMH) Commissioner Melissa Bailey. "They've got to figure out where they're going to go from there."
Adding psychiatric inpatient capacity to the state's mental health system remains a complicated puzzle with a lot of pieces. After damage from Tropical Storm Irene led to the closing of the 54-bed Vermont State Hospital in 2011, the state now only has 45 Level 1 inpatient beds.
According to an AHS Facilities Report Overview, 25 are at the Vermont Psychiatric Care Hospital in Berlin, 14 at Brattleboro Retreat and six at Rutland Regional Medical Center.
It's about to get more complicated. Influencing the outcome of budget deliberations will likely be a nearly $38.3 million fiscal 2017 surplus for the University of Vermont (UVM) Medical Center, more than half of it in net patient revenue collected above budget projections.
The Green Mountain Care Board, which regulates hospitals, has suggested the money could be invested in the state's mental health system. One idea that surfaced is using the money to establish an acute inpatient mental health facility on the Central Vermont Medical Center campus in Berlin.
That could also mean converting the Vermont Psychiatric Care Hospital into a secure residential setting.
The secure seven-bed Middlesex Therapeutic Community Residence (MTCR) remains in use even though it was supposed to be a temporary facility when it opened in 2013 to house psychiatric patients displaced by the closing of the Vermont State Hospital.
"It's two trailers put together. It's not a therapeutic setting," Bailey said of MTCR. If the Legislature ultimately rejects the 12-bed unit, she said the state should look for a building that can be used for secure residential treatment to help with some of the flow of inpatients.
"I think we should continue to explore that until we're told otherwise," she said.
The Green Mountain Care Board was scheduled to vote as early as April 11 on possible regulatory action that would allow UVM Medical Center to retain the surplus funds to create more acute inpatient capacity, said board member Jessica Holmes, Ph.D.
"Nobody has agreed that this is the right plan or this is what we should do," Bailey said. "Everything's sort of a moving target right now and people keep calling it a plan. There's not really a plan. It's an idea that's put out there."
The Scott administration's nearly $240.5 million proposed fiscal 2019 DMH budget includes spending requests for $2.9 million to repurpose an existing building at Northwest into a 12-bed hospital setting and another $1.5 million in operating costs for when it could go online in the last quarter of the fiscal year.
The unit would house inpatients who entered the treatment system through the criminal justice system.
The entire Northwest site, however, would eventually close along with the Chittenden Regional Correctional Facility under a major plan by the Agency of Human Services (AHS) to build a 925-bed prison complex over 10 years. AHS oversees both the Department of Corrections and DMH.
"We looked at a bunch of different places and this was the most feasible and the most they could do would be 12 beds. What we ultimately wanted was 20 beds," Bailey said. The 925-bed proposed prison complex would include a 20-bed forensic unit.
A Feb. 27 memo from the House Committee on Health Care to the House Committee on Appropriations on the proposed mental health budget called the proposed 12-bed unit an "unwise expenditure of significant state dollars for a temporary facility."
Committee members were dismayed that the proposed 12-bed unit may not be fully occupied until fiscal year 2020 and recommended that DMH identify an alternative plan for temporary expanded capacity at an already existing inpatient facility that might be arranged more quickly and at less expense.
"I think a lot of fingers are crossed hoping that the UVM proposal gains traction," Rep. Anne Donahue (R-Northfield), vice chair of the House Committee on Health Care, said via email.
"There is also pretty strong consensus that we need something in the interim (other than the forensic unit) and I think the state is actively looking for alternatives."
State Sen. Peg Flory (R-Rutland), who chairs the Senate Institutions Committee, said the committee is keeping an open mind as it examines the immediate and long-term needs of Vermont's mental health system.
"We're continuing to explore all possibilities recognizing that there is a definite current need and it can't wait four or five years. We need to come up with some interim measures," Flory said.
Bailey said they may also explore the potential for Brattleboro Retreat to add some beds. "But that's a conversation that hasn't gotten any further than, 'Hey it's an idea, can we talk about it?'"
By Janine Weisman