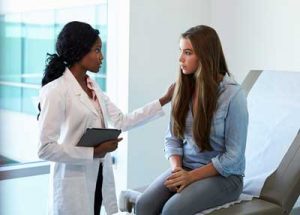 The turn of the 20th century saw the advent of school nurses. Since then, school-based health care has grown. Mental health and substance abuse counseling, case management, nutrition, immunizations, health education, even regular dental check-ups with fluoride treatments are available during school hours.
"It's not just medical. It's from dental to mental." said Ellen Carroll, Ph.D, RN, CPNP, program director for the Dr. Appleby School Based Health Centers and the Human Services Council in Norwalk.
Connecticut has had School Based Healthcare Centers (SBHCs) for the past 25 years. For low-income black and Hispanic families without insurance, this may be their only access to health care. But, those students aren't the only ones seeking help.
"I see all the colors of the rainbow coming in and out of the office," Carroll said of the variety of students that use the health centers.
Jesse White-Fresé, MA, LPC, executive director of the Connecticut Association of School Based Health Centers, Inc., agreed. She sees a relatively equal distribution of demographics.
"It's not just medical. It's from dental to mental." --Ellen Carroll, Ph.D., RN, CPNP program director, Dr. Appleby School Based Health Centers and Human Services Council
"There was a study in 2012 that showed black and Latino male teens going to SBHCs instead of community-based services," she explained. "Across all services, there's a much different distribution. The demographic has changed."
The Connecticut Department of Public Health shows a different breakdown from the 2014-2015 school year.
Of the 45,000 students enrolled in the state's funded SBHC services, Hispanics represent forty-seven percent, blacks are twenty-three percent, whites are eighteen percent, while Asian and other demographics make up the remainder.
As of 2017, there were 538,839 students enrolled in 1,148 schools in the 200 school districts. Those seeking healthcare in schools make up less than 10 percent.
Yet, there is overwhelming approval from Connecticut lawmakers to continue funding SBHCs. Every clinician interviewed for this article praised the state's support.
So, what are the benefits?
Nearly 97 percent of students with access to school-based centers return to class the same day, according to the Agency for Healthcare Research and Quality. There is also a decrease in emergency room visits. Adding to that, SBHCs have the opportunity to teach kids how to take responsibility for their own health needs with each visit.
"We are teaching them health education and good self-care every time they come down," said White-Fresé. "They may not be able to control their circumstances, but they can control their behavior."
Early on, few people understood the concept of SBHCs. Why would kids want in-school services when they can go anywhere?
But, doctor's appointments can be costly. The centers see students whether they have insurance or not. And because it is located in their everyday environment, students feel more comfortable and the staff becomes more integrated.
"One theme comes up over and over again," said White-Fresé. "Kids say they feel safe and comfortable and they know it's confidential and convenient. It's an important piece of what we do."
But, not all kids stop in for the sniffles. Mental health issues have been on the rise for some time.
"There's been a dramatic change in 10 years with students receiving mental health care," said White-Fresé. "Since 2014, we've seen an 11 percent increase. In the beginning, medical care outweighed mental. But now there's a lot more anxiety and depression."
Kids are stressed out and feeling overwhelmed. School work, overscheduling, and even social media play a role. But there's one aspect that kids today have to deal with that many students didn't in the past.
"Kids come to school worried they're going to be shot," said Emily Segal, LCSW, clinical supervisor and social worker at the School Based Health Center at Stamford High School. "That didn't happen 10 years ago."
Sexual orientation and gender identity have also become big issues. Kids struggling with these problems come in at younger ages and with greater intensity.
Having access to care enables them to start advocating for their own health. If they feel sick or sad, they know where to go.