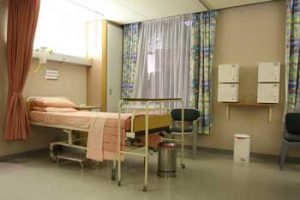 The Green Mountain Care Board (GMCB) gave the go-ahead for the University of Vermont (UVM) Health Network to move forward on a project that would use the Network's extra revenue from 2017 to increase inpatient mental health capacity in Vermont.
The GMCB, established by the Vermont Legislature in 2011, is charged with reducing the rate of health care cost growth in Vermont while ensuring the state maintains a high-quality, accessible health care system.
Vermont's hospital budgets are regulated by the GMCB. When health care facilities exceed allowable budgeted net patient revenues, they are subject to review and possible regulatory action, which could include the care board ordering a reduction in rates that hospitals charge for their services.
Or, the Board can approve use of funds for other specific purposes, such as the UVM Health Network's plan to increase inpatient mental health capacity. UVM Health Network must regularly report details and updates of its project to the GMCB and is accountable to the board.
Specifics of the plan are still being discussed, but the proposal includes building a new inpatient facility on the Central Vermont Medical Center (CVMC) campus in Berlin (CVMC is one of the hospitals in the UVM Health Network).
The number of beds had not yet been determined as of mid-May, according to Robert Pierattini, M.D., chairman of psychiatry at the UVM College of Medicine.
One of the issues additional inpatient capacity aims to address is alleviating the length of time Vermont residents are waiting in hospital emergency departments for behavioral health treatment, while they wait for an inpatient psychiatric bed.
"We're seeing a rise in the number of people presenting to the emergency department with a mental health crisis," Pierattini said. "It's very noticeable with children and adolescents. Children presenting to the emergency department used to be relatively uncommon and now it's quite common."
"The goal is to have the beds available for use in three-to-four years which is a very aggressive time frame, but we have an emergency in the state because we have so many people waiting in Emergency Departments on medical surgical units, or at home in the community, or in residential care," Pierattini said.
"There are so many people waiting for inpatient care who can't get it."
The UVM Health Network is collaborating with state agencies and community stakeholders on the project, with one of the initial steps to include calculation of the number of beds that are needed.
In addition to building a new facility for inpatient psychiatric beds as part of CVMC, Pierattini said the proposal also recommended that the Vermont Psychiatric Care Hospital (VPCH) in Berlin be converted to a 16-bed secure residential program.
VPCH is state-run, and would remain state-run under the plan, Pierattini said. VPCH is currently 25 beds. Federal regulations prohibit Medicaid money from paying for services for adults 18-64 at standalone Institutions for Mental Disease (IMD), which are defined as facilities with more than 16 beds.
Vermont has had a waiver that allowed Medicaid to pay for stand-alone patient services at such psychiatric facilities (see related story), including at the VPCH. However, Vermont's exclusion to this regulation will be phased out starting in a few years, over the course of about a five-year period.
Facilities that offer multiple types of services, such as general services hospitals, can receive Medicaid funding for psychiatric care as long as less than half of the total number of beds are used for mental health treatment.
Central Vermont Medical Center is a general services hospital licensed for 122 beds, according to its website. By integrating the proposed new psychiatric inpatient unit with a general hospital, "participation for federal Medicaid in that case is allowed to continue, as long as the acute psychiatry beds are a minority of the (total) beds for that hospital," Pierattini said.
"For that reason, we recommend that this new facility be operated under the license of a general medical hospital and we're recommending CVMC because it's centrally located and easily accessible from all over the state."