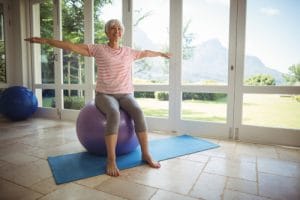 Inpatients with a range of mental health disorders reported improvements in mood and self-image following participation in an exercise and nutrition program at the University of Vermont Medical Center.
Lead author David Tomasi, Ph.D., Ed.D-Ph.D, said that implementation of the research program was a natural progression of the "integrative modalities," UVMC has used before in its clinical psychology practice. Tai chi, free body movement, and psycho education topics like self-esteem were incorporated into patient care.
"We are pretty unique in that the University of Vermont has always been one of the first pioneers of natural-based, integrative approaches," Tomasi said.
In this structured program at in-house gyms, 100 patients from two units worked out four times per week in 60-minute sessions. The exercises included stretching, cardiovascular, resistance and flexibility training, as well as movement using just the body or equipment like stationary bikes, aerobic steps, and exercise balls.
Tomasi said that the sessions were tailored individually with medical comorbidities and primary needs of each patient in mind.
"To some extent, it is opening the door to patients who otherwise are not taking any type of therapy or medications." --David Tomasi, Ph.D., Ed.D-Ph.D, University of Vermont Medical Center
Although research has long emphasized the benefits of exercise for depression and anxiety, participants in this research suffered from other disorders as well: bipolar, schizophrenia, borderline personality, and psychosis, for example.
He noted that patients filled out surveys and questionnaires pre and post exercise sessions with positive outcomes. Ninety-five percent of the respondents reported that their mood improved; 91.8 percent said they felt satisfied with how their bodies felt; 97.6 percent said they would keep working out; and 63 percent described themselves as happy or very happy rather than neutral, sad, or very sad.
One of the best parts of the project, he said, is that it attracted patients who are otherwise reluctant to get help. At the center, patients can refuse psychotherapy or pharmaceutical interventions.
"To some extent, it is opening the door to patients who otherwise are not taking any type of therapy or medications," Tomasi said. "Attendance rates were phenomenal across the spectrum and we were really happy about that."
He emphasized that the program serves as a complementary measure rather than a replacement for other treatments.
Members of the clinical team including psychotherapists, group therapists, social workers, and nurses supervised the sessions and additional staff members are on hand to open the gyms beyond the scheduled hours.
All the equipment is psychiatric approved so there are no cables or other items that could be considered dangerous, Tomasi said.
The existence of two, fully-equipped gyms means there is also support for outpatient post discharge planning as well. Tomasi noted that patients with opioid addiction, for example, often have insurance restrictions or the absence of a family support system.
"They're almost always left on their own upon discharge," Tomasi said. He added that if these patients learn more about their mind/body connection through exercise and nutrition programs, "Their neurotransmitters may be more empowered to take better care of themselves."
The research in this area will continue. Tomasi and his team hope to conduct patient vitals and neuro imaging follow ups to gain more leverage on a quantitative scale rather than self-reports.
In addition, they expect an August launch of a virtual reality program for patients who are bedridden. The patients will be able to interact in a 3-D environment as if they are able to de-ambulate naturally using technology created in partnership with OVR Technology in Burlington.
The technology allows for the secretion of essences for aromatherapy, Tomasi noted. And, it may be helpful for patients with obsessive compulsive disorder, posttraumatic stress disorder, or psychotic breakdown.
Tomasi said these patients may not be prone to discuss their issues in a standardized therapeutic setting, but the technology stimulates the sense of smell and could illicit strong emotional, positive reactions.
Others on the research team included Sheri Gates, MA, Emily Reyns, MA, R-DMT and Medical Director Tobey Horn, MD although Tomasi acknowledged more than a dozen others on staff who were directly involved.