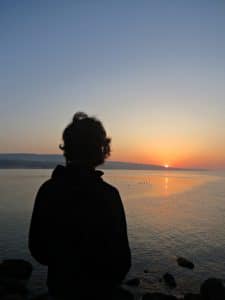 Surge seen especially in young males
New research found that suicide rates reached their highest recorded levels in adolescents and young adults, particularly males aged 15 to 19.
Appearing in the medical journal JAMA, the research analyzed data on U.S. deaths between 2000 and 2017 from the U.S. Centers for Disease Control and Prevention's Underlying Cause of Death database.
Oren Miron, MA, research associate at Harvard Medical School's Department of Biomedical Informatics, led the study.
His interest in the topic sparked from personal experience. Miron's high school friend committed suicide.
"My friend was bullied. I realized it's an age where there is a lot of pressure. If you can get the kids past high school, a lot of times, they'll never see the bullies again," he said.
The data showed the suicide rate increasing from eight per 100,000 people in 2000 to 11.8 per 100,000 in 2017 among 15 to 19-year-olds.
The rate among individuals aged 20 to 24 rose from 12.5 per 100,000 people to 17 per 100,000.
In 2017, there were 6,241 suicides among young people aged 15 to 24. Men comprised 5,016 of that total number.
Limitations to the study include the fact that the data was based on death certificates, which may not always be accurate. Or, the higher numbers could be a reflection of more reporting.
Miron said researchers were aware that the general number of suicides was on the rise but startled by the rate at which it accelerated, especially in adolescent males over the last few years.
His team closely examined what happened during those particular years of the study to try to determine possible causes.
He noted that the opioid epidemic affects both the rate of suicide in addicts and their children.
It's also more difficult for parents to monitor some of their teen's social media like snapchat and Instagram stories, Miron said.
Also, in 2017, several celebrities committed suicide and it was featured on television programs.
"It's important to know it is not this constant, unstoppable increase that just happened with modernization," Miron said. "We found there are more dynamic changes in recent years that we need to address."
Future research will focus on contributing factors and development of prevention strategies. Studies will also look at whether geography has an impact.
"Rural areas have fewer resources," Miron said. "We'll examine where we need to bring the resources."
He said that his expertise in computational neuropsychology may assist mental health professionals.
"Experts deal with the person. I help them with the data element," Miron said.
He noted that he hopes the data can help psychologists and other mental health professionals to get the best sense of the risk of the patient.
"Sometimes, there is a clear yes or no," he said. "In cases where it is unclear, knowing the rates and trends could help tip the scale if he has to make the decision whether or not to give antidepressants, for example. Or, it could help a school counselor to decide to refer a student to a psychologist."
The next goal is to work all the risk factors into an easy-to-use app for providers. Miron said that he is eager to hear from psychologists and other professionals who would benefit from Harvard's large databases, super computers, and advanced AI algorithms.
"Data scientists are here to help you on the front lines," he said. Miron can be contacted at oren.miron@hms.harvard.edu.
Other members of the research team are Kun-Hsing Yu, MD, Ph.D; Rachel Wilf-Miron, MD, MPH; and Isaac S. Kohane, MD, Ph.D.