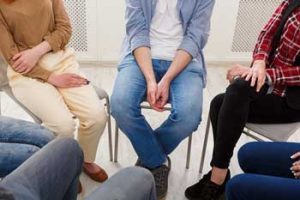 Psychologists today have opportunities to pursue several different professional career paths. New England Psychologist spoke to psychologists who practice in inpatient settings and found that this venue offers both rewards and challenges.
Before retiring, Robert J. Kamman, Ph.D, of Raymond, Maine, spent 32 years working at the Buffalo Psychiatric Center in New York, where he conducted initial screenings on every admission and determined the necessity for assessments.
His responsibilities also included administering tests, running group therapy sessions, collaborating with the art and music therapist, occasionally treating patients on an individual basis and frequently working with families.
Throughout his career, the hospital provided a collegial setting and enabled Kamman to serve as mentor and supervisor to interns.
Inpatient work also served as a learning experience as he was invited to take part in grand rounds and seminars. "I also had the freedom to take a position as an adjunct faculty and maintain a small private practice," Kamman said.
"If psychiatrists support psychologists, life is good." -- David Prescott, Ph.D, consultant, inpatient department, Acadia Hospital
Although Kamman would follow the same career path given the chance, he pointed out that by the time he retired, the hospital environment had become more restrictive, governed by federal mandates and managed care.
In spite of these challenges, he would encourage early stage psychologists to consider inpatient work for this underserved population.
Kamman emphasized the importance though of finding a supportive supervisor and engaging in activities outside the hospital to maintain your energy.
When David Prescott, Ph.D, moved from Indiana to Maine in 1994, his timing was perfect, career-wise; the state was building Acadia Hospital and he landed a job as director of the day treatment program.
Through the years, he has held a number of positions that involved inpatient and outpatient care and also worked in the quality and performance improvement departments.
To be effective in an inpatient setting, Prescott said that experience working with patients who have severe, persistent mental illness, such as schizophrenia, bipolar disease, severe depression or a diagnosis on the autism spectrum, is very helpful. Experience and comfort conducting group therapy are also key qualities.
On a personal level, Prescott indicated that psychologists working in an inpatient setting must be comfortable "not being at the top of the hierarchy" as therapy has to be directed by physicians.
Moreover, good relationships between psychologists and psychiatrists are critical. "If psychiatrists support psychologists, life is good," he said.
However, Prescott pointed out that while hospitals are mandated to hire physicians, nurses, social workers and other professionals, they do not have to staff the facility with psychologists.
"The psychologist has an uphill battle of showing value in a hospital setting," he said.
Working in an inpatient setting can be a valuable learning experience, according to Prescott. He explained that you have a chance to interact with smart, talented people who can teach you things you wouldn't otherwise learn.
"You are exposed to other disciplines and can see new techniques in action," he said.
The fast-pace, rewarding environment and opportunity to work with a multi-disciplinary team in a hospital setting drew Alysha Thompson, Ph.D, to inpatient work.
She is the attending psychologist in the Adolescent Inpatient Unit at Bradley Hospital in Providence, Rhode Island. Although patients are usually at their most acute state, the chance to manage and treat aggressive behavior, suicidal tendencies and other psychologically challenging behaviors can be professionally satisfying, she said.
At the same time, dealing with "life and death scenarios" on a regular basis can lead to burnout, which the psychologist must self-manage, Thompson noted.
In such cases, working with other team members to whom you can vent is extremely helpful.
Thompson has found that working in a hospital, particularly one that is affiliated with an academic institution – Bradley Hospital is associated with Brown University – offers a chance to conduct research.
"Part of the role at Bradley is to develop cutting edge therapy based on evidence-based practice and see if it works," she said.
While she serves as supervisor to trainees, she also does clinical work and research. Thompson and her supervisor have created a four-module intervention based on cognitive behavioral therapy (CBT) and dialectical behavior therapy (DBT). She noted that findings show if the patient completes the therapy, he is less likely to be readmitted.
When James C. DeGiovanni, Ph.D, director of psychology and training at the Institute of Living (IOL)/Hartford Hospital, completed an internship and fellowship at IOL, he discovered he had a "gift" for inpatient work.
He was interested in and understood the role of the team dynamics in the care of the individual patient. With a penchant for group therapy, he assumed oversight of that program and became director of training. He now serves as system-wide consultant to the inpatient and ambulatory departments.
While DeGiovanni believes inpatient work is more satisfying than solo or group practice, he admits that challenges do exist. As health care has evolved, patient length of stay has gotten significantly shorter, so treatment options have changed, he said.
At IOL, psychologists identify a few core treatment areas on which to work. "You don't often see to what degree the work you've done has taken root," DeGiovanni said. "You need to learn to take satisfaction for micro-level changes."
The complexity of the community also imposes challenges that include poverty, violence, and trauma for both the clinician and the patient, according to DeGiovanni.
"You can take a beginning look at problems, but can't deal extensively with them on the inpatient side."
DeGiovanni routinely has conversations with interns about working in a hospital and readily admits that the career path is challenging and involves some safety risks, particularly for the patient.
However, he pointed out that there are opportunities for making contributions with the team and the patients. "It's a great environment in which to feel effective in various roles and to provide direct care," DeGiovanni said. He added that psychologists can experience "…lots of moments to feel effective. In a private practice you can't do that. "
Additionally, inpatient work can be the first step in learning about the inner workings of the hospital system, which can lead to opportunities in program management positions and the creation of care planning processes, DeGiovanni noted.