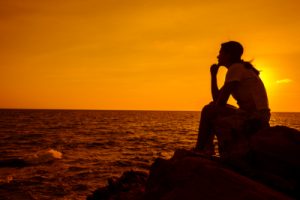 If someone is breaking into your home, you've witnessed a car crash, or a friend is having a heart attack, you know to dial 911.
But if you or a loved one is having a mental health crisis, what number do you call?
Most people have to look it up.
In August, Rep. Seth Moulton (D-Mass.), along with Rep. Chris Stewart (R-UT), introduced the National Suicide Hotline Designation Act, which would make 9-8-8 the national crisis hotline.
As Moulton said via email, "When you wake up in the middle of the night, and your house is on fire, you don't have to look up the number for your local fire department in the phonebook. You call 911. It ought to be the same way for mental health emergencies."
People who are experiencing a mental health crisis shouldn't "have to search for a number or guess whether they should call a veteran's line or a youth line or the National Suicide Prevention Hotline."
Having a national number also will likely shatter stigma. It conveys the message that it's culturally acceptable to deal with mental health issues, be open about your pain, and seek help, said Steve Mongeau, executive director of Samaritans in downtown Boston. Samaritans receives calls from the national hotline 1-800-273-TALK (8255) and its own local hotline 1-877-870-HOPE (4673).
"If 988 can become as common and well known as 911, it could be the single biggest thing to drive down the rate of suicide."
Mongeau noted that longitudinal studies have found that 93 percent of people who've attempted suicide don't die by suicide. "People who survive move on with their lives."
Also, 71 percent of people who attempt suicide decide to do so within two hours. "Having an easy, culturally accepted way to interrupt [this impulsive decision] can dramatically save lives."
Research published in Suicide and Life-Threatening Behavior found that during a call, seriously suicidal individuals experienced a decrease in suicidality. At follow up, several weeks later, hopelessness and psychological pain also decreased.
In 2018 Congress asked The Federal Communications Commission (FCC) to determine the best number for the hotline. They came up with 988 to avoid confusion with existing numbers (which include 1-1), such as 811, which individuals call to confirm the presence of a gas line or electrical lines before drilling, according to Moulton.
Also, changing a number over to the national hotline and re-educating the public about it would "take a significantly longer time."
According to Moulton, "82 members of Congress from both parties have already signed on as co-sponsors. Over 40 outside organizations have endorsed it, including NAMI, American Association of Suicidology, the Trevor Project, and many more."
The bill is designed to work in the same way as 911, letting states determine how to fund call centers. Most states collect a small fee on phone bills. Also, callers could be anonymous.
The bill has been referred to the Subcommittee on Communications and Technology in the House Committee on Energy and Commerce. If it passes through the committee, the bill could receive a vote on the House floor.
Earlier this year, Moulton, a veteran, revealed that he'd struggled with PTSD and received treatment. In addition to the national crisis hotline, he offered a plan that includes mental health checkups for every high schooler in America and members of the military who saw combat.
"People have no problem telling their coworkers that they are leaving work for the afternoon to get their annual checkup. I hope we can make mental health checkups the same way."
Margarita Tartakovsky, MS, is a Florida-based freelance writer and an associate editor at PsychCentral.com.