May 11th, 2018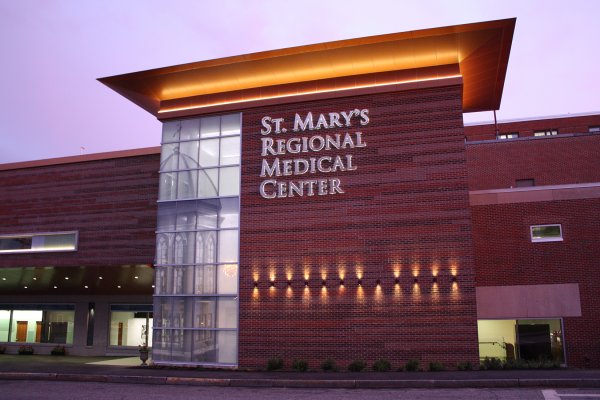 St. Mary's Regional Medical Center in Lewiston, Maine, opened its new pediatric behavioral unit in early 2018 and is on track to open a new adult behavioral unit in 2019, as part of a three-year, $12 million improvement project.
Project funding was partially funded through a capital campaign. Improvements include the relocation and remodeling of the pediatric and adult behavioral units, which will move to the main hospital; as well as renovations and expansion for the building supporting oncology, rheumatology, infusion, and other outpatient services.
The new 13-bed pediatric behavioral unit provides specialized care for children and adolescents. It features 11 private rooms and one double room, complete with disability accessibility.
The old pediatric unit had more beds (18) but all of the rooms were doubles, and many beds were empty because of the difficulty in matching a child with a roommate.
Reasons included infectious disease; agitated patients; age differences; or if a girl needed a room and the only available roommates were boys, for example.
"We blocked so many rooms back then," said Michael Kelley, M.D., chief medical officer of behavioral health.
He noted that the single rooms would rectify that problem and anticipates the daily number of discharges to remain the same.
Kelley said the old pediatric unit averaged a daily census of 10-11, and on the new unit, in early April the census was about 12-13 daily.
The old units had shared dorm-style bathrooms (currently, the adult unit has two showers for the entire floor). In the new pediatric unit, each room has a bathroom/shower. The new unit kept one double room, Kelley said, because occasionally there are patients who do better in a double room.
Similarly, the adult unit will go from mostly double rooms in the current 24-bed unit, to mostly single rooms in a 22-bed unit. It should be similar in design to the pediatric unit, Kelley said.
Kelly described the old adult unit as "ancient," noting it is the oldest of its type in the state.
Age brought issues such as hot water radiators that bang and clank, poor lighting, inconsistent room temperatures, and less accessibility.
"It made you feel like you were in an institution rather than a hospital," Kelley said.
In the old pediatric unit, Kelley said "almost monthly, we would have a family bring a child onto the unit and immediately ask to leave, just because of how it looked."
The new pediatric unit is designed for a completely different look and feel.
In addition to being "light, bright, modern, and clean," the nursing station has direct lines of sight for most of the rooms, rectifying a problem with the previous unit, according to  Dylan McKenney, M.D., associate medical director, Inpatient Pediatric Behavioral Services.
"We feel like we have the opportunity to have a more well-regulated environment here," McKenney said.
Having single rooms may also benefit a patient's treatment. McKenney said rooming teens together can be delicate, as roommates sometimes form very close and not necessarily therapeutic bonds that can be a distraction.
"Kids at this age can really quickly form kind of a treatment-resistant kind of relationship with one another pretty quickly, or just get distracted in someone else's story," McKenney said.
The new pediatric unit has many added safety features, including doors that open in such a way that a child cannot block a door to barricade him/herself into a room.
The new units are also closer to medical units, so medical staff can respond to codes faster; and can offer more modern equipment.
"We always prided ourselves on treating the most medically needy patients in the state, and this will really improve our ability to do that," Kelley said.
By Pamela Berard