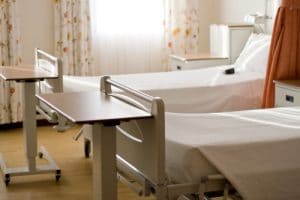 The Massachusetts Nurses Association is demanding information on staffing and policies at the Worcester Recovery Center and Hospital (WRCH) after a lack of progress by the state Department of Mental Health in addressing dangerous conditions for both patients and staff that have been going on for years there.
""No longer are we going to accept as a union allowing them to hire some consultant to give recommendations of what needs to be done," David Schildmeier, director of public communications for the Massachusetts Nurses Association told New England Psychologist.
"We are demanding that they sit down with us and work with the front line staff to develop the solutions that need to be made to make that place safe for the patients and for the staff. Right now it isn't."
Schildmeier says the situation at the 320-bed hospital is getting worse even after television news reports exposed the number of assaults and drug overdoses at the facility. A total of 180 WRCH staff are union members, of whom 124 are frontline staff R.N.s.
Four days after WCVB Channel 5 Investigates aired a report May 8 on assaults on staff requiring medical attention and drug overdoses at WRCH, the station reported that a 59-year-old woman died of a suspected drug overdose in a bathroom at the hospital.
A total of 96 assaults at WRCH requiring medical attention occurred between Jan. 1, 2016 and Dec. 31, 2018, according to DMH critical incident reports. These assaults include an unknown number of sexual assaults.
One nurse working the night shift who was interviewed by Channel 5 Investigates said he had his nose broken in five places and had been knocked unconscious by a patient. Another forensic unit nurse said he was out of work for eight months after being kneed in the face and punched by a patient.
The largest union and professional association of registered nurses and health professionals in the state says the problems at WRCH are rooted in a lack of security, a shortage of staff, and insufficient training to care for a patient population with complex mental health issues.
WRCH, which opened in 2012 to replace Worcester and Taunton state hospitals, was designed to be a less restrictive, state-of-the-art facility with a home-like setting to aid patients in their recovery and minimize the stigma attached to psychiatric hospitals.
It was designed with a secure facility, outdoor courts associated with living units, and a "downtown" surrounding a central "village green" shared by all.
Nurses say WRCH was designed to care for non-forensic behavioral health patients but now between 70 to 90 percent of its population is involved with the courts system and awaiting evaluations.
While WRCH has forensic units, those units are often full because of the lack of beds elsewhere, which means new patients admitted are mixed in with the general population, Schildmeier said.
"It's a very dangerous environment," Schildmeier added. "It's understaffed. It has been for years."
In a letter dated May 28 to WRCH Director Jacqueline Ducharme, Massachusetts Nurses Association Associate Director Marc Carbonneau requested the number of all assaults for the last 12 months; the number of staff vacancies and a breakdown of staff out on leave; the number of security personnel assigned to each shift; and staffing patterns for forensic and non-forensic units and the evidence-based rationale for those staffing patterns.
Carbonneau also requested information on policies for securing bathrooms, issuing passes to leave campus with family, and searching clothing brought for patients by visitors, among other activities.
Additionally, he asked for an update on how DMH is responding to recommendations by an outside consultant brought in two years ago to evaluate problems with violent incidents at WRCH.
"We are committed to engaging in a collaborative process with the state to jointly develop the changes needed to finally fix this problem," Schildmeier said.
In response to a request from New England Psychologist for comment, DMH released a statement that "several new safety protocols" were implemented on May 20 as a result of on-going conversations with WRCH administration and staff to identify strategies and steps to improve safety for staff and patients.
"Worcester Recovery Center is a hospital and while safety is our top priority, it is important that our procedures and policies promote recovery and support the dignity of those we serve on a daily basis," the statement said.
DMH said it has added 17.5 new positions to WRCH since 2016. These include eight mental health workers, six nurses, two peer specialists, and 1.5 social workers.
Daniel Lambert, Ph.D., WRCH chief psychologist, declined to comment without authorization from DMH when reached by New England Psychologist.