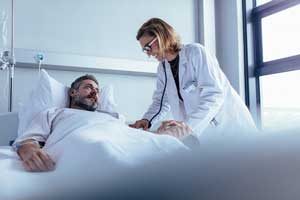 The psychiatric care landscape has shifted in recent years from an inpatient setting to community placement and back to in-hospital treatment. New England Psychologist surveyed the New England states to assess the current inpatient situation.
Kathleen Remillard, public information officer (PIO) at New Hampshire's Department of Health and Human Services, reported that the state has had no psychiatric unit closures in the past year.
Rather, New Hampshire has gained 20 new transitional housing beds for patients recently released from New Hampshire Hospital or other designated receiving facilities.
Vermont has also added 20 youth psychiatric beds; and four mobile crisis apartments as an alternative to inpatient care for individuals in crisis that have been assessed by a mobile crisis team.
Maine, which has two private and two public psychiatric hospitals as well as seven community hospitals with psychiatric beds, has seen no significant changes recently, according to Jeffrey A. Austin, vice president of government affairs for the Maine Hospital Association.
"Venture capital companies see behavioral health as a growth area and have been willing to front money." -- David Matteodo, executive director, Massachusetts Association of Behavioral Health Systems (MABHS).
"The biggest development here in the past few years is the state's proposal to build a step-down facility in Bangor," he said, adding that the goal is to have a facility where forensic patients who no longer need hospital-level care, but are still committed to DHHS custody, can transfer.
The Rhode Island Medical Society reported "no change" in the psychiatric bed situation. However, Sara Brandon, senior marketing manager for Butler Hospital, pointed out that the facility has reorganized its inpatient units to allow for more capacity for substance use disorder beds and has also expanded its intensive outpatient programs.
Diana Lejardi and Mary Kate Mason, public information officers for Connecticut's Department of Mental Health and Addiction Services, indicated that the Constitution State has robust services for supporting people in the community and has no plans to close or open any facilities, although they added that the situation is fluid.
A 2016 study revealed that Connecticut has 611 state-operated/funded beds and four state hospitals with additional psychiatric units in 23 general hospitals. The state also has three free standing hospitals, bringing the total inpatient psychiatric bed capacity to 1570; approximately 162 beds are designated for pediatric use.
Unlike most of the other New England states, which are basically status quo, Massachusetts has experienced a significant uptick in psychiatric bed capacity, according to David Matteodo, executive director of the Massachusetts Association of Behavioral Health Systems (MABHS).
Matteodo acknowledges that some closures have taken place. For instance, Westwood Lodge Hospital closed its doors in August 2017, representing a loss of 90 psychiatric beds and the 41-bed Lowell Youth Treatment Center shuttered doors this February.
But he pointed out that in some cases, patients are being relocated to other facilities. More importantly, Massachusetts has added beds since June 2015 and opened four new psychiatric hospitals, Matteodo said.
In June 2015, High Point Hospital had 16 existing beds and added 54 new ones for a total of 70 beds.
In August 2015, Southcoast Behavioral Health Hospital in Dartmouth assumed 90 beds from St. Luke's Hospital in New Bedford, when the latter facility closed its psychiatric unit, making Southcoast a 120-bed hospital, Matteodo said.
Additionally, Tara Vista Behavioral Health Center opened a 108-bed facility in Fort Devens in November 2016 and the Westborough Behavioral Health Care Hospital launched a 152-bed psychiatric facility in October/November 2017, according to Matteodo.
"This facility is owned by Signature Healthcare, a California group, but run by local professionals," he said.
In February 2016, McLean Hospital added 31 beds and more recently, Harrington HealthCare System boosted its Webster location by 16 beds and MetroWest in Natick increased its Mental Health and Behavioral Health Treatment unit by 38 beds, Matteodo added.
The increase in psychiatric beds and facilities can be attributed to a number of factors, Matteodo said.
He explained that demand created by the opioid crisis as well as excessive emergency department boarding are two driving reasons.
"Also venture capital companies see behavioral health as a growth area and have been willing to front money," he said.
Growing compliance with parity laws and lack of discrimination in the state is also prompting the surge in beds.
Furthermore, Massachusetts does not require a certificate of need, meaning the state is a free market and anyone can open a hospital without submitting this documentation, Matteodo explained.