Howard Center recently partnered with the Vermont Old Cemetery Association (VOCA) to complete a meaningful project at Lakeview Cemetery that included restoring and resetting the gravestone markers of children who lived at the Home for Destitute Children in the late 1800s.
"We are grateful to the VOCA members for their support to complete this restoration," Howard Center CEO Bob Bick said in a press release. "The Home for Destitute Children is an important part of Howard Center's history and our shared Vermont history and we are so pleased to have the opportunity to honor the children's memory in this way."
According to the press release, Howard Center is Vermont's largest designated agency providing community-based mental health, substance use, and developmental services in Chittenden County as well as several other counties in Vermont.
As the forerunner to today's Howard Center, the Home was founded in 1865 first on Main Street in Burlington then on Winooski Avenue and later relocated to the current site on Shelburne Road along Home Avenue, which is said to have taken its name from the Home for Destitute Children.
VOCA was founded in 1958 to encourage the restoration and preservation of neglected and abandoned cemeteries in Vermont. A combined group of nearly three dozen volunteers from both organizations did the gravestones' restoration work on Sept. 10.
"Our members are so pleased to be able to work with Howard Center to complete this restoration," VOCA President Tom Giffin stated in the press release. "It's always an honor to do this work and especially meaningful to revitalize children's memorials."
Howard Center Director of Development and Communications Denise Vignoe said team members from multiple areas in the organization including executive leadership, psychiatry, client services, development and communications, and a colleague from its social work intern program participated in the project.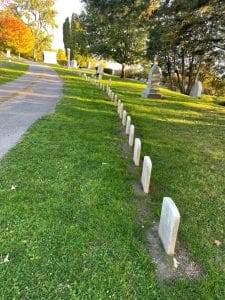 "Other community volunteers also joined us for the morning, some with stories of family members who had lived at the home," she said.
She added that many Howard Center staff have visited the cemetery since the project was completed.
"We were all deeply moved by the project, and we've continued to be in touch with one another about the time spent together to restore the grave markers," she said. "The project was important to honor the memory of the children who lived at the Home for Destitute Children, a forerunner to Howard Center today."
Giffin said he originally received an email about the undertaking in the fall of 2021 requesting assistance from VOCA and they were happy to help complete the project.
"The children who died at the House of Destitute Children should be remembered," he said. "These small, white marble monuments at Lakeview are there to preserve their memory, sad as it is. They lived and died in Burlington and their monuments with their names are a testimony to the history of House of Destitute Children and should not be forgotten. Their monuments at Lakeview ensure that they are not."
He said volunteers used shovels, prybars, wheelbarrows, and more to clean, repair, and straighten 51 individual gravestones and up righted a large monument as well as the large granite section marker which had fallen over. VOCA and Howard Center got permission from the city to do the project and coordinated with Burlington officials as well as cemetery workers.
"We took the soil that was available and leveled off the site so the rain would not wash away the sand we used around the monuments and the city also planted grass seed to keep everything in place," Giffin said. "After we finished the House of Destitute Children site, we had some time and the VOCA volunteers spent a few more hours working in the Indigent section of the cemetery repairing their monuments."
He shared that VOCA has done several projects in the Chittenden County area this year and many of the same people who participated in those projects showed up to work at Lakeview. Volunteers came from Charlotte, Clarendon, Essex, Milton, Rutland, Sharon, Shelburne, and more, including a volunteer whose father was at the House of Destitute Children until he was adopted.
"He was also my second cousin once removed," Giffin said of the connection. "That added to the emotion of the work that day."
He said VOCA does these projects at no cost and counts on its legion of dedicated volunteers. The materials were provided by the city and Howard Center and volunteers brought their own tools and equipment as well as donated their time.
"It is important to preserve the history of Vermont, warts and all," he said. "You cannot talk about United States history without including Ethan Allen, Ticonderoga, Robert Rangers, etc., and the people who made that history are buried in Vermont's burial grounds. These cemeteries are historical sites and preserve not only Vermont's history by the history of our nation. We should preserve and honor these burial grounds as they have our history buried there in each individual monument. Each burial has a story to tell."
Posted in
Articles
,
Leading Stories
|
Comments Off

on Gravestone restoration project honors memory of Home for Destitute Children residents