February 7th, 2018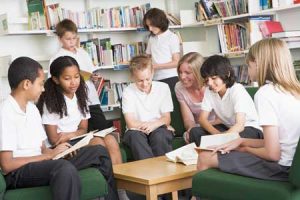 Two recent grants will help NAMI Rhode Island, the state chapter of the National Alliance on Mental Illness, continue to enhance mental health education programs for young people.
A $15,000 Rhode Island Foundation grant will allow NAMI to increase training opportunities and add presenters for Ending the Silence, a classroom program that was first developed by an Illinois NAMI chapter and is now one of the national organization's signature education and support programs.
"We were trained up on this program for the first time last year and we saw the promise in it, because it offers some new things that our existing education programs didn't offer," said Cindy Elder, executive director of NAMI Rhode Island.
She noted that the program has helped to reach a younger population because it is suited for middle-schoolers in addition to high school students. "It focuses on the issue of suicide prevention both from the point of view of helping kids to seek out help if they are experiencing signs and symptoms of mental illness, but just as important, to equip their friends with the strategies and tools they need to help each other," Elder said.
Ending the Silence gives students a general understanding of some of the most common symptoms of mental illness without getting detailed about specific diagnoses, which Elder said works well for that age group.
The multimedia presentation helps students see the reality of living with a mental health condition. It incorporates short videos produced by high-schoolers from across the country, along with a trained facilitator delivering a presentation and a peer speaker.
Peer speakers – typically in the 18-26 age range – share their own personal stories about living with mental illness and recovery. "That's really powerful," Elder said. The presentations focus on hopefulness and recovery. "What we are really trying to get through to people is, if we acknowledge the signs of mental illness early and get people into treatment, the outcomes are so much better," Elder said.
Much of what youth see about mental illness on television or media is sensationalized, Elder said and peer speakers help change the students' perceptions of what it might be to have a mental health condition.
NAMI Rhode Island also received a $10,000 grant from the Rhode Island-based non-profit organization Harvest Acres Farm, which will help pay the salaries of educational program staff. Elder said that all programs are offered free-of-charge, so she is grateful for organizations like Harvest Acres Farm that recognize the value of the programs and help fund staff.
NAMI Rhode Island offers a burgeoning number of support groups for those who suffer from mental illness – and their families – statewide, and has a three-prong focus of support, education and advocacy.
"They are all really intertwined, but what we are feeling right now is there is an urgency for mental health education in the schools," she said. "The number of crises happening on a daily basis and the pressures on teachers …It's tremendous."
In the period from September-December of 2017, NAMI Rhode Island education programs reached almost 2,500 students through Ending the Silence and hundreds more through its Inside Mental Illness program for high school and college-aged students and through Parents and Teachers as Allies, a program for empowering teachers and school personnel.
By Pamela Berard