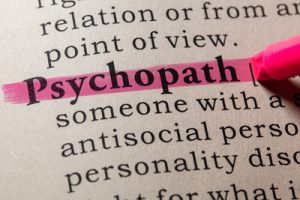 Washington D.C. has the highest number of psychopaths, according to a nation-wide study. But Connecticut ranked second overall and first per capita.
The research, conducted by Ryan Murphy, Ph.D., research assistant professor at Southern Methodist University, also showed the states with the most psychopaths were clustered in the Northeast and Mid-Atlantic regions.
Murphy said that he expanded on research that argued in favor of mapping psychopathy to the Big Five personality traits (extraversion, neuroticism, agreeableness, conscientiousness and openness to experience).
His study "Psychopathy by U.S. State" used a sample of 1.6 million people across the country and calculated how frequently they exhibited the personality traits.
In addition to D.C. and Connecticut, the top five includes California, New Jersey and New York and Wyoming, tied for fourth.
Found the "least" psychotic were West Virginia, Vermont, Tennessee, North Carolina, and New Mexico.
Maine landed in seventh place while Massachusetts was 15th, Rhode Island, 29th, and New Hampshire, 39th.
"To my knowledge, it's the first estimate of psychopathy for each individual U.S. state," Murphy said. "The methodology would make it possible to measure each state over multiple years because the Big Five personality tests are quite common."
Murphy said that D.C.'s ranking could be explained by either its high population density or by the type of person attracted to high-powered positions.
He said what surprised him most about the results was that D.C. was such "an extreme outlier." Its standardized psychopath score of 3.48 was almost double Connecticut's 1.89.
Murphy also was surprised that the measure showed a close relationship with the percentage of the state's population living in an urban area, but not with the murder rate.
"Both are predicted in some sense by theory but I would have thought the murder rate would have been the one of the two to have a close relationship," he said.
Previous research published in the Journal of Personality and Social Psychology divided the country into sections. The western U.S. was considered to be relaxed and creative, the Midwest classified as friendly and conventional and the mid-Atlantic and northeast called temperamental and uninhibited.
John Huber, Psy.D. describes the study as "kind of a letdown" and said he doesn't buy into stereotyping regions (i.e. southern hospitality vs. hostile New Yorkers, for example).
Also based in Texas, Huber is a clinical forensic psychologist who has appeared on more than 300 radio, 30 national TV programs, and is host of "Mainstream Mental Health Radio," which is broadcast nationally.
The study is flawed, he believes, because the wrong tools were used. Huber noted that he thinks the Hare PCL would be a more appropriate measure.
"I don't think we can specifically say just because you live in one geographic area that you are more likely to be a psychopath," Huber said, noting that he goes in the courtroom and works with true psychopaths.
"If I was in D.C. or Connecticut, I wouldn't say, `oh, my goodness, there are psychopaths all around me.' There are psychopaths around everybody…all of the time," he said.
Huber added every person has felt offended or angry enough to commit violence but most are able to restrain themselves. For some people, though, "all the dominoes line up and they react in a lethal manner."
On the positive side, the study generated a lot of discussion and got people talking about mental health issues who may not have otherwise, he said.
Huber, chairman of the non-profit, Mainstream Mental Health, said that any attention that can "de-mystify" some of the beliefs people have about mental health is important.
Murphy feels his study is important in another way.
"It is a small contribution to geographic psychology, which is a growing field," he said.