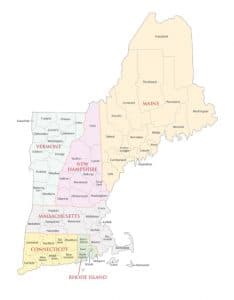 The New England states have earned a reputation for providing health care services that outrank much of the rest of the country.
The Commonwealth Fund recently released the 2019 Scorecard on State Health System Performance. Massachusetts ranked No. 2; Connecticut and Vermont, No. 5; Rhode Island, No. 7; New Hampshire, No. 10; and Maine, No. 12.
The scorecard examines access and affordability; prevention and treatment; avoidable use and cost; healthy lives; and health care disparities. In addition to reporting top-ranked and most improved indicators, the scorecard assesses the impact improvements will have on the state.
David Radley, Ph.D, MPH, senior scientist for Commonwealth Fund's Tracking Health System Performance program, reported that the Scorecard series began in 2007 and that that the initial measure set was developed to give a broad overview of all, or at least most, aspects of healthcare delivery in the United States.
"The Commonwealth Fund convened several expert panels to develop the initial measures set and state ranking strategies," he said.
According to Radley, data come from a number of different sources. "We draw heavily from public federal surveys and vital statistics data, but also use some administrative data," he said.
There have been a number of changes to the measure set over the years, generally driven by (in no particular order): data availability, changes in the underlying data source, national health care priorities, and current trends in health and healthcare, Radley said.
"For example, we've reported deaths from suicide as a marker of mental health concerns, but added deaths from alcohol and drug overdose in the last couple of years, to stay current with national trends."
Brooke Karanovich, spokesperson for the Massachusetts Executive Office of Health and Human Services (EOHHS), said, "Massachusetts is one of the healthiest states in the country and remains a leader in health care access, using data to inform our interventions for the opioid epidemic, promoting age friendly communities, and developing innovative programs and policies that support the physical and behavioral health of our residents."
A national leader in health care access, Massachusetts has the highest insurance coverage in the country at 97 percent, Karanovich noted.
Furthermore, the Commonwealth has the highest vaccination rates and the lowest birth rate in the nation. The Centers for Medicare and Medicaid Services (CMS) reported that Massachusetts' health connector had the lowest exchange premiums in the country in 2018.
Since 2015, the Baker-Polito administration has increased state-sponsored treatment and support capacity that includes adding more than 1,250 substance use treatment beds, implementing the nation's first seven-day limit on new opioid prescriptions, training 8,500 future prescribers about the risks and treatment of substance misuse, and securing Medicaid reimbursement for recovery coaches and residential rehabilitation services.
Karanovich added that Massachusetts has committed $1.9 billion in behavioral health care investments over the next five years and efforts continue to create an ambulatory behavioral health system in the state.
The Baker-Polito administration has also actively supported issues related to older residents by investing in programs that enhance quality of life and help older adults age in their communities.
The Commonwealth Fund was founded in 1918 by Anna Harkness whose husband Stephen V. Harkness found financial success in the petroleum refining business. Following his death, she was determined to start a foundation to benefit mankind and endowed the Commonwealth Fund with an initial gift of almost $10 million.
Throughout its history, the Fund continued Harkness' mission as it "…sought to be a catalyst for change by identifying promising practices and contributing to solutions that could help the United States achieve a high-performance health system."
Phyllis Hanlon has been a regular contributor to New England Psychologist since 1999. As an independent journalist, she has also written for a variety of traditional and alternative health magazines and business consumer and trade publications.  She also serves as writer/editor for custom publications.
Posted in
Articles
,
Leading Stories
|
Comments Off

on Commonwealth Fund Scorecard: New England states ranked in top 12