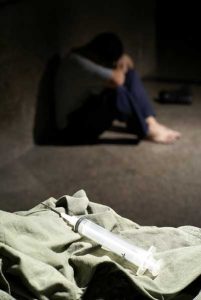 As part of an effort to combat the drug overdose epidemic, a new law, known as the CARE Act, currently in the Massachusetts legislature would allow certain medical professionals to hospitalize people addicted to drugs for up to 72 hours while waiting for a court order.
The law would give physicians, psychiatric nurses, qualified licensed psychologists or clinical social workers the right to judge if a patient's addiction poses an immediate danger to themselves or to others.
The law would allow this involuntary commitment on the basis of the facts and circumstances even if the patient refuses to be examined.
This new law would mirror a state law providing for a 72-hour psychiatric hold in cases of mental illness that could lead to harm.
Currently, Massachusetts does allow for involuntary commitment for up to 90 days where addiction is a concern but the decision must be made by a court order.
The new law was introduced as part of a broader mental health bill by Governor Charlie Baker in both the House and the Senate in November, 2017.
The bill would also set up a commission on school and community-based behavioral health, increase access for mental health care for children, and set up a state-wide program to provide remote consultations.
It would also establish a trust fund for behavioral health promotion, and prepare a drug formulary of clinically appropriate opioids for use in the treatment of patients with workers' compensation claim among other things.
At the time of publication, the bill had been recommended to pass by both branches and referred to the Joint Committee on Rules.
"Building on our first bill, the CARE Act will allow for the Commonwealth to continue combating the opioid epidemic by expanding access to treatment and employing effective strategies like the use of more recovery coaches," Baker said in a written statement issued by his office.
Designed to reduce drug or alcohol-related deaths during times when courts are not open, (i.e. on nights and weekends), the law has both supporters and detractors.
Patrick Cronin, director of business development at Northeast Addictions Treatment Center in Quincy, where he himself went through recovery treatment more than a decade ago, supports the new law.
When families come to the center looking to get a loved one committed for their own safety, the wait time for courts to be open can be painful.
"In many cases, it is the family looking for the involuntary commitment," he said. "and to have to wait over a weekend until Monday is a long time when a life is at stake."
For Sandra Staub, an attorney with the Northampton-based Center for Public Representation, any increase in forced hospitalization should be avoided as it impedes on personal rights.
She believes where the money should really go would be into better programs for addicts at the community level.
"We need more money to be readily available for community-based services," she said. "We would rather see funds go there and we would be opposed to this proposal."
While Cronin agrees that fixing a broken community-based system should come first, concerns about impeding on rights do not hold up, he said, when the same medical professionals who would do the 72-hour hold are also appearing in front of a judge to provide their expert opinion on whether someone should be committed for longer time periods.
"If the doctor has the ability to make that decision, why not let them make this one?" he asked.
Involuntary commitment has not been proven to reduce overall deaths by drug addiction, say detractors. It may only postpone the tragedy. To Cronin, that postponement can't hurt even if it does not save a life forever.
"No one ever said that commitment ruined my life," he said.