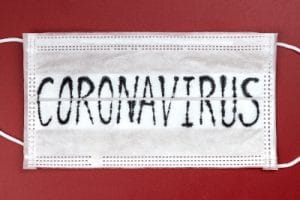 The Coronavirus has sparked widespread concern, particularly now that the World Health Organization has declared it a pandemic. Supplies are flying off the shelves. Conferences, concerts, and sporting events are all canceled. In most areas, school closures are in effect. A  travel ban has been instituted, and we're encouraged to keep our distance from others.
It's an anxiety-provoking situation for anyone—and for those with diagnosable anxiety disorders, it can be especially difficult.
At her practice, the New England Center for OCD and Anxiety, in Cambridge and Melrose, Mass., psychologist Lisa W. Coyne, Ph.D, is seeing patients with "increased health anxiety." Other patients are reporting "concerns about how to handle college classes online given school closures [and] concerns and fears about traveling home on crowded buses or planes."
Coyne is also the founder and senior clinical consultant at McLean OCD Institute for Children and Adolescents. One of her child clients recently had a nightmare that his parents died from the Coronavirus.
Other clients, Coyne said, have expressed concern over whether they should stick to their exposure treatment plans, telling her things like: "I'm worried I'm going to lose progress because I'm afraid to touch surfaces."
Joseph Brown, Ph.D, a psychologist with a private practice in Hartford, Conn., noted that he's seeing a lot of increased anxiety over the Coronavirus, "especially with my OCD clients but also even with people without an obsessive-compulsive history."
For example, similar to Coyne, Brown is working with a nine-year-old girl, who has a family history of OCD, and is worried about getting Coronavirus and giving it to her parents. She's regularly seeking reassurance and wondering if touching certain surfaces will make her sick.
When Brown's clients seek reassurance, he trains them to delay their request by a certain amount of time (and to track their progress). As people delay reassurance-seeking behavior, they're forced to sit with their anxiety and learn to tolerate it, Brown said.
Coyne, whose patients are exhibiting increased reassurance seeking, as well, has advised against repeatedly Googling or checking WebMD about the Coronavirus—How many new cases? Who's died? —because it "will only increase their distress."
She's encouraged her clients to "check an objective source such as the CDC website for what to do, take precautions like anyone else would, and try to respond in a way that someone without health anxiety or OCD would do."
Coyne has also sent some clients CDC guidelines to help them take appropriate, reasonable precautions instead of lapsing into ritualized behavior.
For example, the CDC recommends washing hands for 20 seconds while singing "Happy Birthday" and practicing social distancing. This is in stark contrast to washing hands for 10 minutes, scanning news sites every half hour, and checking one's temperature over and over (even though it was previously normal).
Moreover, Coyne is helping her patients rethink the Coronavirus: "I'll frame it as 'life will throw these things at you, and you have the skills that you need to manage them. Let's take this as an opportunity to act just like someone who doesn't have OCD would act.'"
Coyne has also told her clients that it makes sense to have increased anxiety amid a global pandemic—and her clients have appreciated her normalizing their anxious feelings.
Brown suggested that psychologists become aware of the facts surrounding the Coronavirus so they can educate their clients. Another strategy he commonly uses is sharing his own anxiety-provoking experiences and how certain techniques have helped him—such as visualizing a soothing beach scene while getting an MRI.
In general, Brown noted, his ultimate goal with all clients is to teach them to become their own behavior therapists. This way, if symptoms "come back, they know how to treat it."
For now, Coyne has moved her practice to exclusively teletherapy "to support the social distancing that we see happening in healthcare institutions, schools, and businesses all around us, and to help keep our clients safe by slowing the spread of the virus."
On April 3, they plan on reassessing this approach.
Margarita Tartakovsky, MS, is a Florida-based freelance writer and an associate editor at PsychCentral.com.