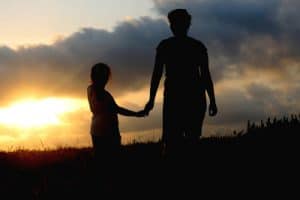 The American Civil Liberties Union of Connecticut will appeal a federal judge's ruling against a couple who say they were discriminated against because of their mental disabilities when the state's child welfare agency removed their two infant sons.
Joseph Watley and Karin Hasemann are challenging a decision last December by U.S. District Judge Robert N. Chatigny dismissing their claims that they were never given the opportunity to show they could be fit parents.
Their two sons were taken away at birth in 2005 and 2006 and are now teenagers being raised by adoptive parents.
The couple's parental rights were terminated after a trial in 2008. In court petitions, Connecticut's Department of Children and Families (DCF) invoked the legal doctrine of "predictive neglect," which deems it more likely than not that a child would be denied proper care while remaining with his or her parents.
Chatigny's ruling came three years after DCF asked the court to dismiss the suit which followed five neglect trials, four termination of parental rights trials and three appeals.
Watley and Hasemann filed suit against DCF and some DCF officials in federal court after state courts refused to hear their claims that their rights under the Americans with Disabilities Act were violated. But Chatigny ruled the federal district courts lack jurisdiction to review state court judgment.
"There's only two kinds of courts in this country and both of them have said that they cannot invoke the ADA there. We think that's wrong," said Dan Barrett, legal director of the ACLU Connecticut, who is representing the couple.
"What the case is about is a level playing field. It's not a case in which we say a parent with disabilities ought to, no matter what, be able to have their parental rights."
Barrett says the state has a statutory duty to rehabilitate a parent when contemplating whether to terminate a person's parental rights on the basis of their disability or perceived disability.
The ADA provides that "no qualified individual with a disability shall, by reason of such disability, be excluded from participation or denied the benefits of services, programs or activities of a public entity."
The couple contend DCF never provided them with notice of their rights and the agency's own obligations under ADA. They also add that DCF never designated an ADA coordinator, provided a grievance procedure or modified its programs and services so that the couple could access and benefit from them.
"The danger here is that people who have a mental illness or some kind of developmental disability, they are often treated quite different from somebody with a physical health condition," Barrett said.
"When it comes to people whose difficulty in parenting may spring from the state of their mind, DCF is all too happy to say there's just nothing we can do for these people,' he added.
A DCF spokesman declined to comment on the case but said the agency always aims to keep children in their homes whenever possible.
"It's probably best to put the entire concept of removing a child into the proper perspective," said Ken Mysogland, DCF's bureau chief of external affairs.
"Connecticut receives over 100,000 phone calls a year pertaining to child abuse, Mysogland said. "In 91 percent of the cases when we knock on the door and interact with a family, the family stays intact, children remain with their caregivers and they are never removed."
Removal only occurs when a child is believed to be at imminent risk of physical harm and the agency has to demonstrate why the risk cannot be mitigated while the child remains in the family's home, Mysogland said.
Hasemann also had a daughter from a prior relationship born prematurely in 2002. DCF took custody of the girl upon her discharge from the hospital and placed her in foster care.
The couple also allege in court papers that DCF disregarded a psychologist's recommendation that Watley was not a risk to himself or his oldest son and could care for the boy three nights a week for a six-week trial to acclimate the boy. No overnight visits ever took place.
"Instead DCF continued to act based on its own assumptions and stereotypes based on Plaintiff's disabilities and/or perceived disabilities," according to court documents filed in 2016.
Neither DCF nor the state's Judicial Branch track the number of children removed from Connecticut families with a parent who has a mental health diagnosis.
Barrett said he will file a legal brief by March 12 with the U.S. Court of Appeals for the Second District in Lower Manhattan, the regional federal appellate court governing appeals in Connecticut, New York and Vermont.
The state would have 30 days to respond and then the plaintiffs have another two weeks to reply. That puts the case fully briefed by the middle of May and then oral arguments could be scheduled.
"We're not seeking to overturn the state judgment and have the kids returned," Barrett added. "That's prohibited. All we can do is get them damages for the ADA violation."