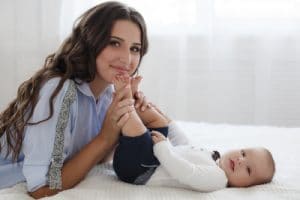 In June 2014, the state launched the Massachusetts Child Psychiatry Access Program for Moms (MCPAP for Moms) to provide assistance to pregnant women and new mothers who have behavioral health issues. The program also helps medical professionals better address anxiety, depression and other psychological matters.
MCPAP for Moms is modeled after the Massachusetts Child Psychiatry Access Program (MCPAP), which was founded by John Straus, MD, in 2004. This program created a regional system of consultation teams that helps manage the behavioral health of pediatric patients.
Strauss credits the Massachusetts legislature and Representative Katherine Clark (D – 5th district) with creating a post-partum depression commission in 2010.
Clark also sponsored federal legislation, which was folded into the 20th Century Cures Act, to provide funding for the MCPAP for Moms program.
This program aligns with the American College of Obstetrics and Gynecology's recommendation, which calls for screening women twice during pregnancy and once following delivery for mental health issues, according to Strauss.
"Pediatricians increased that to four times post-partum during visits. During screening, they have to know what to do when the screen is positive."
Strauss emphasized that MCPAP for Moms "fits hand and glove" with those recommendations.
Inspired by the success of MCPAP, Nancy Byatt, DO, MS, MBA, medical director of MCPAP for Moms and executive director of Lifeline for Moms, decided to apply the concept to pre- and post-partum women.
"Moms have problems similar to pediatric patients. There are not enough psychiatrists so we are building capacity of obstetric providers to address the moms' behavioral health issues," she said.
Byatt explained that the program's vision is to help the medical community provide care for mental health issues as well as substance use disorders. "Our goal is to build front-line capacity to provide holistic care. We want to make sure we do this in a way that meets everyone's needs. We want to reach marginalized, more vulnerable populations but we focus on everyone at the table."
The program provides "…education, algorithms and training" for physicians, midwives and nurse practitioners in obstetric practices. Grand rounds at birthing centers offered an introduction to the program; a tool kit and practical level training taught how to respond to women's emotional needs and why it's important to do so.
Providers also learned how to provide treatment or referrals. Approximately 15 percent of calls come from psychiatrists who are unsure about prescribing medication for a patient during pregnancy. Telehealth consultations as well as face-to-face encounters are available.
Byatt reported that more than 75 percent of obstetric providers have enrolled in the program, which covers 80 percent of deliveries.
Byatt pointed out that MCPAP serves only pediatricians, but her program targets a more broad population, including those in family practice, obstetrics, pediatricians treating women and substance use disorder programs.
The program has three geographically situated hubs with five on call, perinatal psychiatrists: Brigham and Women's Hospital (two), UMass Medical School (two) and Bay State Medical Center (1).
Currently, there are 14 Moms programs throughout the country, according to Byatt.
After five-and-a-half years, providers are more comfortable managing less complicated situations, Byatt reported.
Strauss noted that William James College has assembled a database of all therapists who are open to treating women during the perinatal period through the MCPAP for Moms program. Qualified providers interested in offering their expertise are encouraged to contact William James College.
Byatt also runs a national network, Lifeline4Moms, which aims to establish best practices and evidence-based treatment for integrating mental health into primary care settings.
A team of academic and clinical experts uses their expertise in perinatal mental health to develop programs, integrate science, health policy and research into health systems, medical practices and state and federal agencies.