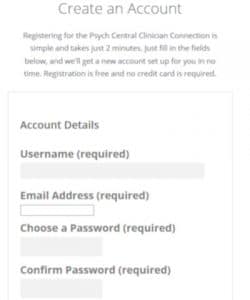 Nearly every therapist subscribes to an online therapist directory service. Paying hundreds of dollars of a year to be listed in a directory may seem like it makes good business sense for a psychologist in individual practice.
But there's no reason these directories need to cost $300 to over $500 per year for a basic listing. To me, that just seems over-priced.
Psych Central is committed to changing the directory space by offering an affordable directory listing to mental health clinicians. Our directory listings are only $9.95/month for a basic listing or $14.95/month for an advanced listing. No annual contracts are required and you can cancel at any time.
It's not hard to sign up! Just head on over to the Psych Central Therapist Directory and register today:
As a show of my deep appreciation to our loyal New England Psychologist readers, I've also created a special coupon that you can use. Use coupon code NEP2019 at checkout to receive $6.00 off of your monthly price for your first 12 months. That means your directory listing is only $3.95 per month (or $8.95 per month for an advanced listing) the first year.
If you have any questions, want to give us feedback, or have any difficulties registering or filling out your profile, please feel free to email us: directory@psychcentral.com
I look forward to seeing you in the directory soon!