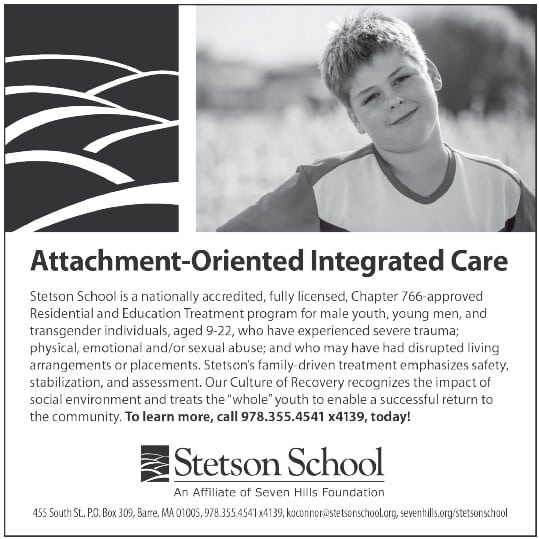 Stetson School
https://www.sevenhills.org/affiliates/stetson-school
An Affiliate of Seven Hills Foundation
455 South St. Barre, MA 01005
From the school: Stetson School is a nationally accredited, fully licensed, Chapter 766-approved Residential and Education Treatment program for male youth, young men, and transgender individuals, aged 9-22, who have experienced severe trauma; physical, emotional and/or sexual abuse; and who may have had disrupted living arrangements or placements.
ADMISSIONS: Kathleen O'Connor, Admissions Specialist, 978-355-4541, ext. 4139. Email: koconnor@stetsonschool.org
AGES/GRADES: Males ages 9-22 in grades K-12 in a 7 day a week, 12 month a year program. IQ range starting at 50.
THERAPEUTIC SERVICES: Offer intensive residential and education care, and community group home services in 2 different programs located in central Massachusetts. Therapeutic programming is based on a 40 week Core Foundation Model clinically focusing on individual, group and family work as well as the completion of specific treatment elements ensuring timely return to the community. Psychosocial assessments are completed within 30 days of intake, and risk assessments and community based family work are on-going throughout treatment. Psychopharmacological services are provided when needed and overseen by board certified child and adolescent psychiatrist. OT, animal assisted therapy, and functional behaviors assessment services are available.
THERAPEUTIC ORIENTATION: Our ACORN Model of Care is rooted in attachment theory, is trauma informed, and focuses on individual needs, strengths, and interests.
POPULATION SERVED: Male and transgender adolescents with sexual behavior problems, latency age sexually reactive, sexual misconduct, services for the developmentally delayed, youth on the spectrum, and youth transitioning into adulthood, as well as youth with behavior disorders.
766 APPROVED: Yes
COMMENTS: Main campus located on 200 rural acres which accommodates a therapeutic environment and encourages youth to engage in recreational activities that foster teamwork, problem-solving, and a sense of belonging. Community group home located in Worcester, MA, which affords youth multiple community integration opportunities. COA accredited and fully licensed by the MA Dept. of Early Education and Care and the Dept. of Elementary and Secondary Education.