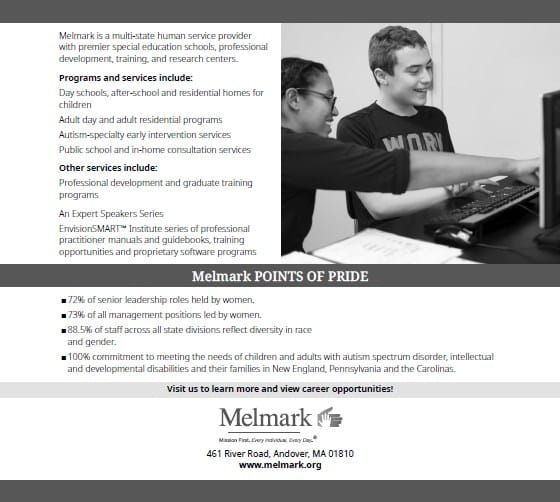 Melmark New England
www.melmarkne.org
  461 River Rd. Andover, MA 01810
From the school: Melmark is a multi-state human service provider with premier special education schools, professional development, training, and research centers.
ADMISSIONS: 978-654-4300
AGES/GRADES: Males and females ages 3-21 in a 365-day, 12 month a year residential program; also males and females ages 3-21 in a 237-day, 12 month a year day program.
THERAPEUTIC SERVICES: Educational, behavioral and vocational services; psychiatric consultation, OT, PT, and SLP support services. Parent training, Expert Speaker Series, outreach and school consultation services available.
THERAPEUTIC ORIENTATION: Program uses an interdisciplinary team approach based upon the principles of applied behavior analysis and evidence-based practices.
POPULATION SERVED: Autism spectrum, neurological diseases, acquired brain injury, traumatic brain injury, neurologically based disorders and severe challenging behavior.
766 APPROVED: Yes