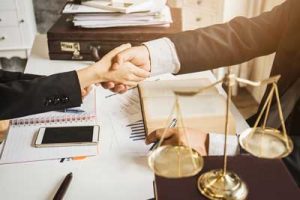 In general, people hire a lawyer only as a last resort. For a psychologist, that may mean a subpoena for a patient's records has arrived, a contentious situation has arisen with an employee who needs to be let go, or the state licensing board has sent a notification of a disciplinary hearing.
Legal issues can be overwhelming for anyone without a law degree but they can't always be avoided. Questions that need to be answered correctly may include: When do confidentiality laws apply? How should a contract be terminated? What happens when one partner in a practice retires or dies?
Although it is not a big niche within the field of law, there are attorneys who specialize in working with health professionals, from doctors and psychologists to social workers or psychiatrists.
The right attorney can handle everything from setting up an LLC to advising on HIPAA requirements to representing a practitioner in court or before the licensing board.
The main goal, however, is to keep the situation from getting to a courtroom or before the licensing board.
"Take the necessary precautions to make sure that you're not creating a target for litigious people." -- Milton Kerstein, Esq., managing partner of Kerstein, Coren & Lichtenstein LLP
Staying abreast of changes in the field, through the American Psychological Association (APA) or state associations, can help guide psychologists as can making sure to keep good records and follow best practice recommendations for bookkeeping and filing for insurance reimbursements.
According to Milton Kerstein, Esq., managing partner of Massachusetts-based Kerstein, Coren & Lichtenstein LLP, the best option is one where issues are avoided before they can happen.
"My best day is to help keep professionals out of trouble," he said. "First and foremost, that is my job."
To that end, the use of a lawyer from the beginning of the creation of a business, whether it be for a sole practitioner or within a partnership, can save all parties from future aggravation.
David Atkins, Esq., of the Connecticut-based firm Pullman and Comley, LLC, suggests creating a written agreement between partners to avoid future misunderstanding or disputes if and when a partnership ends.
"I sometimes handle breakup disputes," he said, "and the first thing I ask is to see a copy of the original agreement. Then I get the blank stares."
People often create business partnerships on a handshake, he added, saying that they did not think it would be necessary to put it in writing or that they did not want to spend the money.
Even solo practitioners can benefit from setting up retirement and pension plans, Atkins said.
Written agreements between employees and employers are also recommended to avoid disputes.
Beyond the setup, what issues do lawyers see with psychologists?
Perhaps the most common are problems that can come from poor record keeping, book keeping or filing for insurance claims.
"I'd say that coding issues are what we see most of these days," said Atkins. "We are seeing more and more therapists with complaints against them from Medicare or other insurance companies. They are getting more aggressive, with private insurances even hiring outfits to do audits."
Many coding issues are because of simple bookkeeping errors, he added, but when it happens consistently, the practitioner can see serious repercussions. Being aware of how staff or an agency is handling your billing can help to avoid these types of errors.
"Be sure your staff isn't doing 'robo-coding,'" he said, "where you just automatically enter the same code over and over for each patient."
Poor record keeping will also cause problems if records are requested by subpoena or court order. Then, there are concerns about confidentiality when records are requested. An attorney can explain the legal requirements for releasing documents under subpoena or court order.
"Many practitioners think that they have to disclose records with a subpoena, but that is not always the case," said Kerstein. "There are guidelines to when you must retain them and when you must release them."
Knowing the ins and outs of confidentiality laws, a lawyer will help practitioners avoid situations where they could be brought up before a licensing board.
They can also assist with other licensing board issues, from failing to keep a license up-to-date to more serious transgressions as well as represent a psychologist in a courtroom if necessary.
In a society that has gotten more litigious, Kerstein tells practitioners that they need to practice defensively.
"Take the necessary precautions to make sure that you're not creating a target for litigious people," he said.
"Understand that the boards expect the highest standard of care so you must do all you can to perform at the highest standards."