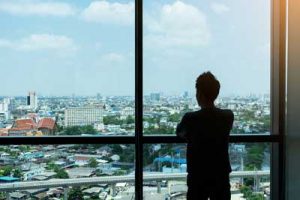 In 2008, New Hampshire developed a plan to address mental health needs in the state. However, because of the recession, "not a single thing happened," said Rep. James MacKay (Merrimack, District 14), a retired social worker and chair of the New Hampshire House Subcommittee on Mental Health, Addiction, and Recovery. 
Last January, the Department of Health and Human Services (DHHS), with input from focus groups, workgroups, and public sessions, released a new, more comprehensive plan. Unlike the previous plan, this 10-year plan considers the needs of both adults and children.
A major objective is to increase the number of "designated receiving facilities," which provide care for patients with acute mental health crises. According to MacKay, "on any given day, 40 or 50 people are sitting in the emergency room not getting treatment."
Individuals can wait days or even weeks until a bed opens up.
To address these long wait times, in May 2019, Governor Sununu signed Senate Bill 11 to provide more than $5 million to construct new designated receiving facility beds in various New Hampshire facilities.
"Children should not be in an adult mental health hospital." -- Rep. James MacKay (Merrimack, District 14), chair, New Hampshire House Subcommittee on Mental Health, Addiction, and Recovery. 
Another goal is to move the children's unit from New Hampshire Hospital to Hampstead Hospital, which will create more adult beds, said MacKay. "Children should not be in an adult mental health hospital," he added.
The 10-Year Mental Health Plan also aims to increase the number of 24-hour mobile crisis response teams, who provide immediate mental health evaluations and stabilization services, and connect individuals to community resources.
Currently, the state has three teams—Concord, Manchester, and Nashua—and the goal is to expand the service to all 10 regions, said Rep. Ken Snow (Hillsborough, District 19), a retired social worker and vice chair of the House Subcommittee on Mental Health, Addiction, and Recovery.
He recounted a recent situation that illustrates the teams' importance: A child who was scared and threatening self-harm in response to his inebriated stepfather called 911—who contacted the crisis team. Both arrived simultaneously. While the police ensured everyone was safe, the response team conducted evaluations.
"I got a call from that family about how wonderful they thought both the police and intervention team were at calming everyone down and meeting everyone's needs," Snow said.
MacKay noted that they've received funding for a response team for children.
Also, on the agenda is improving New Hampshire's state prison system and county correctional system, in addition to training police officers to respond to people with mental health symptoms, said Snow.
Snow is sponsoring a bill to add peer support specialists to the state Medicaid plan's list of reimbursable services. These individuals "can be very valuable assets for people experiencing severe and persistent mental illness problems." Crisis response teams are already required to have a qualified peer support specialist, he said.
Both MacKay and Snow are part of the Bipartisan Mental Health Caucus, which provides continuing education for the legislature. They have already done two in-service programs, which included a two-hour presentation and panel to answer questions about the plan, according to Snow.
He is also working on a bill to fast-track licensure for substance abuse counselors and psychologists, who were previously excluded from the original bill because of different governing boards. In a state facing a significant shortage of mental health professionals and long waitlists, having an efficient, timely licensure process is vital.
Snow shared a story of a substance abuse counselor who moved back to Vermont, where he's fully licensed, because of the slow process.
Snow is working on legislation that provides paid family and medical leave and integrates developmental disability services with mental health services.
In the 1980s, MacKay said, "New Hampshire was the model mental health system in the country. My feeling is that we're beginning to regain the quality care that we had then."
Margarita Tartakovsky, MS, is a Florida-based freelance writer and an associate editor at PsychCentral.com.