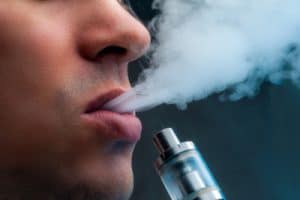 A new law in Maine is cracking down on vaping by prohibiting tobacco, cigarettes, and e-cigarettes on school grounds. The law went into effect on September 19. One day later, the Bangor Daily News reported that the state had its first reported case of vaping-related illness. And, Centers for Disease Control Director Nirav Shah, MD, JD, made it clear that if you haven't vaped yet, don't start now.
"People who do not vape should not start," he said, "and people who do should seriously consider the health risks in using e-cigarette products."
According to Maine's CDC, nearly four percent of middle schoolers and 15 percent of high schoolers have used e-cigarettes with a third of high schoolers reporting that they at least tried vaping.
Other states like Michigan, Hawaii, California, New Mexico, Massachusetts, New York, and Connecticut have placed restrictions on vaping products. The Trump administration is calling for a federal ban on flavored vaping pens including those that use mint or menthol.
There are now more than 1,000 vaping illness victims. According to the U.S. CDC, some vaping pods can have as much nicotine as two packs of cigarettes but the biggest issue may be TCH, the active ingredient in cannabis. Yet, no one single substance has been targeted as the problem. Additives, diluents, and toxins that act as cutting agents are considered dangerous.
Symptoms of vaping illness include fatigue, nausea, vomiting, coughing, and fever. The coughing can lead to shortness of breath, which can become so extreme it prompts a rush to the emergency room.
While medical professionals have condemned vaping as it targets children and teens with candy-like flavors, there are business owners who object to the criticism.
Garrett Chapman, regional manager of Empire Vape Shop in Waterville, Maine, is one such advocate and has been vocal about responsible vaping. He said his shop has to go through strict vetting.
"Any juice we sell has to go through a strict FDA process—anything legally taxed, every flavor, every ingredient," he said. "All of it has to be submitted to the FDA for approval. There are strict marketing guidelines and warning labels."
And what are his thoughts on the vaping illness? He said it's all black market stuff and has nothing to do with legitimate products. "If you design a product that will kill your customer," he said, "you're not going to be in business very long."
He believes the ban will hurt the small business owners and others just out to earn money will continue to sell it.
Kara Tierney-Trevor, LCSW, and Lee Ann Dodge, MS, PS-C, disagreed. Tierney-Trevor is the staff social worker at South Portland High School and Dodge is the coalition director for SoPo Unite, a grant funded program implemented in 2016 to help prevent the substance abuse of alcohol, marijuana, and tobacco in South Portland's youth.
Last year, they saw a huge increase in vaping.
"A lot of the students didn't have accurate information about vaping. They minimized the impact of it and just thought it's flavored juice," said Tierney-Trevor. "There are black market products that are really potent and you don't know what's in it. But a lot of these kids get it from vape shops. They just increase the access to young people."
Both women said none of the students smoked cigarettes before vaping. They saw it as cool, harmless, and fun. This year, however, kids are more aware of the harm vaping can cause. With their SoPo Unite initiative, they were in a unique position to confront the situation head on.
"We had the infrastructure in place to support and prevent substance abuse," said Tierney-Trevor. "So when this hit last year, we could use the key members of the community including the students to share information as to what they were using and how harmful it was."
Of those exhibiting symptoms of vaping illness, 72 percent were male and 67 percent were between the ages of 18 and 34. Dodge said they are most concerned about the amount of nicotine in many of the vaping products like JUUL, one of the major vaping brands.
"We've got some kids who have even switched to smoking cigarettes to try and get off JUUL," she said. "Any amount of nicotine on a young brain affects learning and memory. Look at all the ones getting sick—they're all young. Whether they are getting it online or in a vape shop, it's all nicotine at the end of the day."