October 1st, 2010
'Invaluable' resource looks at ethical dilemmas
"APA Ethics Code Commentary and Case Illustrations"
By Linda Campbell, Melba Vasquez, Stephen Behnke and Robert Kinscherff
American Psychological Association
Washington, D.C., 2010
Reviewed By James K. Luiselli, Ed.D., ABPP, BCBA-D
I suspect that, at some time, every psychologist has confronted or been made aware of an ethical dilemma. Ethics are principles that define standards of professional practice and inform enforceable codes of conduct. A commitment to behave ethically should be a lifelong pursuit.
The premise for this book is that "ethics is better described as a process than as a set of rules." Furthermore, the authors advise that "most ethical dilemmas are neither straightforward nor easily resolved." The book's content is linked to the 89 standards that comprise the American Psychological Association's Ethical Principles of Psychologists and Code of Conduct (2002).
Not every standard is covered in the book but the bulk of the APA Ethics Code is considered in exemplary fashion. There are 10 chapters, each devoted to ethical practice guidelines within specific areas: Resolving Ethical Issues, Competence, Human Relations, Privacy and Confidentiality, Advertising and Other Public Statements, Record Keeping and Fees, Education and Training, Research and Publication, Assessment, Therapy.
Each chapter features a brief introduction, followed by a four-stage analysis that is uniform throughout the book. First, the APA Ethics Code standard is listed (e.g., Standard 1.01, Misuse of Psychologists' Work), with accompanying definition and an expanded explanation of how the standard should operate in practice. Next, there is a case illustration that depicts a fictional psychologist behaving in a way that is subsumed by the prevailing standard. Then, the authors pose the ethical conflict conveyed in the case illustration, cite several decision-making factors and offer possible options to resolve the dilemma.
One purpose of the book, done exceedingly well, is to present ethics as guidelines that should not be abridged. And yet, as I noted earlier, the many case illustrations point out that ethical decision-making is a fluid process that must consider, among many things, concepts of "reasonable and appropriate behavior," mitigating circumstances and applicable state psychology board regulations. This pragmatic and dialectical perspective is the book's strength.
The authors targeted "psychologists at all levels of professional experience" as their primary audience. As a psychologist, you should have the book available to think through possible ethical challenges that might arise in your role as a clinician, consultant or researcher. At a more basic level, the book will help you stay current with the APA Ethics Code and its interpretation. Students and trainees should also read the book during their formative years of training. For example, it could be source material for graduate school coursework or seminars while additionally, an ideal book to reference during clinical supervision.
Finally, many psychologists form collegial groups for the purpose of peer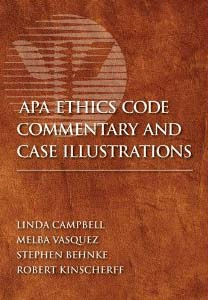 supervision and toward that end, the book could be a focal point of discussion. Indeed, the philosophical debates about ethics in psychology and related disciplines, and how ethical principles are translated in application, demand the most vigorous analysis among professionals. Whatever context chosen for the book, APA Ethics Code Commentary and Case Illustrations is an invaluable resource and, I would contend, indispensable reading.
James K. Luiselli, Ed.D., ABPP, BCBA, is senior vice president, applied research, clinical training and peer review at the May Institute in Norwood, Mass.
Learn more about the book: APA Ethics Code Commentary and Case Illustrations
By James K Luiselli EdD ABPP BCBA-D